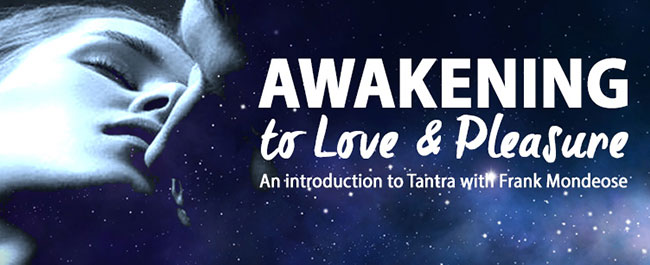 Awakening to Love and Pleasure
For those of you who have heard about "TANTRA", and the secret arts of deeper intimacy and pleasure, on October 10th and 11th, you will have an opportunity to get a taste of these ancient practices.
Frank Mondeose will be hosting an Introduction to Tantra entitled: Awakening to Love and Pleasure.
You can choose to attend the Friday session for only $25 with reservations. (reserve by emailing info@mondeose.com).
Friday Session will comprise of a 60 introduction to Tantra talk as well as a ritual exercise around energy and connection called a PUJA.
The Saturday session will run from 10am to 10pm and will comprise a day of exercises and practices which will lead into a very juicy evening ritual called Oui, Non, Encore!
To attend the Friday and Saturday Session, purchase your spot now here ($175/person – taxes, service and Friday fees included)