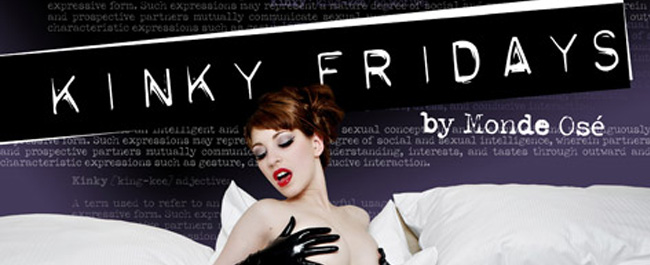 Friday, March 26, 2010 – LAST Kinky Friday At Cavo
NEXT KINKY FRIDAY EVENT:
FRIDAY MARCH 26 at Cavo Nightclub in the heart of Old Montreal – 160 Notre Dame East.
KINKY FRIDAYS – Kinky[king-kee] adjective: A term used to refer to an intelligent and playful usage of sexual concepts in an accentuated, and unambiguously expressive form. Such expressions may represent a mature degree of social and sexual intelligence, wherein partners and prospective partners mutually communicate sexual understanding, interests, and tastes through outward and characteristic expressions such as gesture, dress, and conducive interaction.
MUSICAL GUESTS: DJ: Oly Arsenal, Jeff Fontaine, Lucie Lebel, NashOne and John Juster….ouffff its going to be hot
NO CAMERAS ALLOWED.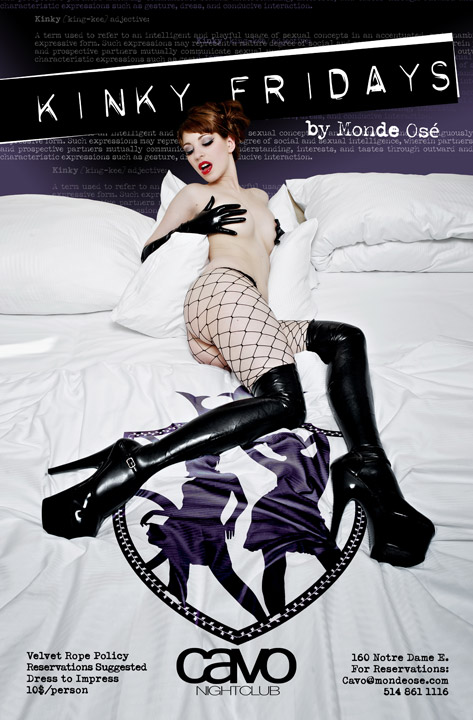 Hello all,

Come party with the kinkiest and sexiest people in Montreal, for our last edition of Kinky Friday.

This will be out last Kinky Friday for a long while as i will be going into major planning for this year's 5 yr anniversary of Bal Erotique after this.

If you have always wanted to try one of my events, this is the perfect trial event. It is inexpensive, very chill and its always a good time with beautiful and sexy people giving you nothing but smiles.

No attitude, no kids, no fakes….its all about peace, love and sensuality…with a dash of kinkiness!

Hope to see you there for one last KINKY FRIDAY!

Reserve your space by emailing us at cavo@mondeose.com with your username and the number of guests you will be with.

$10 per person.

DRESS TO IMPRESS
RESERVATIONS SUGGESTED (cavo@mondeose.com)
VELVET ROPE POLICY FOR PEOPLE NOT ON THE LIST