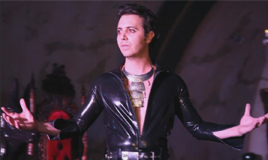 A word about ILLUMINATI II
Illuminati II was by far one of the best events Monde Osé ever created. It was also our most labour intense party we ever worked on, having to do everything from bringing in sound, lighting, running the bars, to ensuring that all the finer details of the event were done as well. Lets just say that most of my team started work at 9am on Friday, and we all left the Castle at 9am on Saturday after cleaning and closing up. Not the easiest task, and each member did this for the passion of living out fantasies and bringing together the most amazing clientele in Montreal.
Overall, we believe we kicked ass, and we are absolutely loving getting all the positive feedback from the event.
Illuminati II represented so much to my team and I. It proved we can step out of our comfort zone and still kick ass. It proved we love what we do, and when you love what you do, and are determined, you can be the best at what we do.
It also gave us an opportunity to live out some personal fantasies. The reason we re-did the Illuminati theme for Halloween, was based solely on popular demand of our clientele. As those of you who were in attendance saw that, for the Monde Osé crew, Halloween is our favorite holiday and is alot about the underworld of vampires (and not to be dismissed werewolves and witches etc)
When we found the castle, MsV and I automatically thought of creating a vampire story because that is what the castle inspired in us. However, seeing as our clientele wanted an eyes wide shut masquerade style party, we decided to combine the two. And hence we created the Illuminati II Vampire Ball which was the twist in our story.
Where everyone thought they were attending a typical Masquerade party, we decided to use the Halloween theme to bring Vampires into the story.
For those of you who missed it, here is what the night was about.
A family of Vampires (from the Illuminati lineage) contacted Monde Osé to call the second gathering of the Illuminati (Monde Osé`s deeper, darker and dirtier chapter of their secret society).
They were calling this meeting, as a way to get fresh blood into their castle, so that they could feed on the sexiest people in Montreal on this night of the dead.
As people walked in, they noticed at least 50 people in the party that were unmasked, fanged, and dressed in a darker, more edgier style (mostly in latex – to be discussed later). The 50 animators were a family (coven) of vampires. They were there to seduce, and feed …. on you 🙂
At midnight, our host addressed the crowd, explaining to them what they had got themselves into, and proceeded with our initiation ritual, which is common place at every Illuminati meeting. However, this time, instead of initiating a new couple in our secret society, we changed a human into a vampire. Our beautiful Nadere, did an amazing job communicating this story, through her amazing contortion act, something out of a bizarro circus!
The rest of the night was spent with amazing music and other vampiric performances by the brothers and sisters of our coven, including performances by Ro and the Virtuous Villains, and the legendary Pierre Black.
We look forward to putting out the videos and pictures of this event, as everything from the location, costumes, and energy of this event was, in our eyes, PERFECT.
We hope that those of you who attended this event, enjoyed it as much as we did.
Feel free to leave your comments at the bottom of this page.
UPCOMING ARTICLES:
What is latex and why do we love it.
Our new partnership with PRIAPE and why we are very proud of it.
Ro and The Virtuous Villains – Who are they and what is coming up with them.
And a lot more…so stay tuned and check mondeose.com often, as soon we will be announcing many new developments.
Thank you for your continued support, and helping us realize our dream of creating the highest end, sexiest events in the city….and potentially North America.
We are lucky because we have a special weapon to help us in our mission and that is YOU … the fucking sexiest clientele in the world!
PEACE LOVE AND SENSUALITY