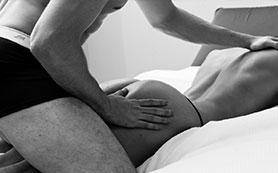 Bal Érotique 8: Press Release
Le Bal Érotique® 8 : From Lust to Love
21st Century Burlesque, where guests take center stage!
Montreal, Quebec (13.08.26) – From Lust to Love is the theme selected by Monde Osé® to celebrate its 8th annual flagship event: Le Bal Erotique®, Canada's largest and most opulent sexy event! To celebrate the ongoing revival of sensuality and desire, Monde Osé® invites the daring and the playful to be inspired by their favorite fantasy and come dressed in an outfit that expresses their sexiest self.
A journey into desire, from the decadent to the divine awaits, where guests are as much part of the entertainment as the performers on stage!
On Sunday September 1st, Le Bal Érotique® 8 will feature three levels of sensory stimulation. From the hedonistic havens in the Velvet, to the exploration of light and darkness in the Saint-Gabriel, to the psychedelic channels that will be released in the Attic. Frank Mondeose (founder) suggests that guests should safely and respectfully "free your erotic imagination and let the energies of Lust and Love fill you with earthly delights and heavenly inspiration!"
It is said that "Going from Lust to Love is to use the beauties of the earth to go from pure form to absolute beauty" – Plato.  Monde Osé plans to put this theory to the test!
Le Bal Érotique® 8 will take place on Sunday September 1st at L`Auberge Saint-Gabriel, 426 Rue Saint-Gabriel, Montreal, QC
Due to the daring nature of this event, no media cameras will be permitted in the event however, qualified media can request a press pass, event footage and photos, or pre and post event interviews with Frank Mondeose by contacting
info@mondeose.com
.
Information:
Frank Mondeose