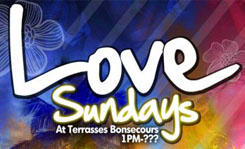 BAL EROTIQUE AFTER PARTY – SUNDAY
Hello All,
The Party is not over…come to Terrasses Bonsecours, for some more dancing and the some of the best house music in the world! Montreal is one of the leader in house music DJ, and we spotlight them every week at Love Sundays…
Come be part of the best weekly event in the city!!! And this week, it has a Monde Osé vibe since it is the Bal Erotique after party…and better than that, its the first SUNDAY WITH SUN!!!
It will be phenomenal. Come early as Monde Osé`s own, Luke Native will spin is special brand of Native Love from 1 until 3, and after that the boys of Mile End Records take over!!!
Here is the event billing:
Angel Moraes, Steve « Nexcite » Bishop & Frank Mondeose bring you:
LOVE SUNDAYS @ Terrasses Bonsecours
SPECIAL BAL EROTIQUE AFTER PARTY & MILE END RECORDS ANNIVERSARY PARTY!
For this occasion, we are pretty sure that it will be our hottest day so far. The weather has been ordered and therefore we are asking everyone to come dressed as lightly and sexy as possible.
We suggest, bikinis (or just bikini tops), and sexy attire summer attire for the gentlemen.
Last week was an AMAZING party in which we celebrated Angel's birthday….definately a night to remember.
This week its a special love sunday, where we will celebrate Life, Love, and…..SENSUALITY – Bal Erotique style.
The first month of Love Sundays have been the talk of the town…Some things we have heard people say:
"The music is A-MAZING"
"What a great place to be!!!"
"OH YEAH…I LOVE SUNDAYS"
What WE think makes Love Sundays so special is: THE PEOPLE, THEIR ATTITUDE, AND THEIR LOVE.

AUGUST 16th MEGA SUPER PHENOMENAL LINE UP:
Patrick Dream
Joubin
Steve « bear » Sas
Malick
Bruno Brown & Erik El
Loco Fern
Omar « cito » Perez
Luke Native
It will be an amazing day, with awesome music, beautiful people, and sexy clothing!
WOW WOW WOW…Monde Ose vibe on terrasses bonsecours with some of the hottest dj's in the city…We are in for something special for sure!