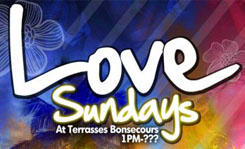 Love Sundays begin this weekend July 12
This Sunday we launch an exciting new event which will definately change Summer Sundays in Montreal. Angel Moraes (international dj from New York) Steve Bishop (Nexcite) and myself have joined forces to create a new Sunday afternoon event entitled LOVE SUNDAYS.
The goal is to give Montrealers an opportunity to come party, relax, or have a drink in one of the BEST outdoor venues in Montreal. If you are looking for a place to chill out on a Sunday afternoon, meet some wonderful people from all walks of life, and listen to some of the best DJ's in Montreal, Love Sundays is the place to be.
We will have 5 dj's per week, 3 floors of celebration, and a very happy clientele.
This is a weekly event where we come together to sensually celebrate LOVE, LIFE and MUSIC. Come spread some positive LOVE and positive energy, as we can never get enough LOVE in our lives.
And the best part is, if you are a Monde Osé member, entrance is absolutely free. Just email me at info@mondeose.com with Love Sundays [date] in the subject and let me know how many people you will be and it will be my pleasure to put you on the guest list.
***Entrance is subject to venue's capacity. Priority will be given to Monde Osé, unless the venue is absolutely full!
***Doors open at 1pm and goes on all day and night!
Pay it forward!
xoxo
Frank Mondeose