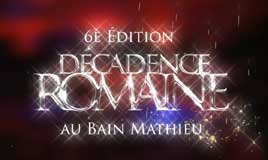 Monde Osé signs on with Kiss&Fly for New Year`s Eve
Monde Osé is proud to announce our association to what we believe has been the best New Year`s eve party over the past 6 years in Montreal: Kiss N Fly, produced by Victor Charlebois and the owners of L`Assomoir Bernard and Notre Dame.
This year, Kiss N Fly have decided to create a fantasy world under the theme of Roman Decadence 2010. Monde Osé Entertainment has been hired to bring this theme to life with our interpretation of ROMAN DECADENCE 2010 through our sexy and titilating stage shows and animation.
Taking place at one of the most INTERESTING venues in Montreal, Le Bain Mathieu is the perfect location for a New Year`s Eve party in this theme, with the dance floor being the basin of an old bath house pool! WICKED!
In addition, they have offered us a special Monde Osé section for all members who purchase their tickets through Monde Osé or a Monde Osé point of sales (to be announced next week). Access to this section will be reserved to Monde Osé members only, identified with a Monde Osé bracelet and will be overlooking the dance floor and next to the bar. Probably one of the best spots in the building.
Monde Osé members are also invited to dress up in theme if they wish, although there is no strict dress code for the theme.
More information concerning this event will be posted in the events section of the website!
MAKE KISS N FLY YOUR NEW YEAR`S EVE PARTY DESTINATION AND START TELLING ALL YOUR FRIENDS ABOUT IT AS WELL!!!