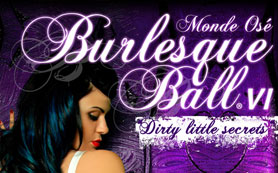 THE INTERNATIONAL QUEEN OF BURLESQUE TO PERFORM AT THE 6TH ANNUAL MONDE OSÉ BURLESQUE BALL®
(Montreal, February 17, 2011). The Monde Osé artist collective will be spilling all their « Dirty Little Secrets » on Saturday, March 5 when the 6th annual Monde Osé Burlesque Ball® returns to le Lion d'Or in Montreal and will feature the International Reigning Queen of Burlesque ROXI DLITE.
The Burlesque Ball® is Monde Osé`s modern take on the satirical art of burlesque and strip tease made popular in the early 20th century. Part theatrical production, part glamorous dance party, this unique event goes beyond the standard viewing experience by making the audience the stars of the show. The audience is the true centerpiece of the Monde Osé experience. Guests will arrive dressed in everything from tuxedos to evening gowns, and lingerie to latex!
The Burlesque Ball® is an homage to the decadent burlesque tradition that made Montreal the nightlife capital of North America.  Monde Osé combines elegance and sensuality to create a classy and seductive event for couples.
Monde Osé is a lifestyle brand focused on promoting positive images of life, love and sensuality through the production of multi-sensory events combining music, fashion, performance art and guest participation. For this reason, Monde Osé has recruited the current leading burlesque performer in the world, the REIGNING QUEEN OF BURLESQUE– ROXI DLITE.
Known as the Drinkin', Smokin', Strippin' Machine, Roxi DLite danced her way to the top of the burlesque world in Las Vegas by becoming the first and only Canadian to ever be crowned Miss Exotic World. Roxi has headlined burlesque festivals around the world in cities such as Las Vegas, New York and Sydney. Roxi will highlight the Burlesque Ball with her award-winning act The Smoking Cigar; an act so provocative it would make Bill Clinton blush and have Sigmund Freud questioning if sometimes a cigar is just a cigar.
The 6th edition of the Burlesque Ball® will also feature two of Montreal's best performance artists, Madria, ROZA and Yammel, both of Monde Osé Entertainment.
The music will be conducted by the international DJ sensation – ELLE. ELLE is a Montreal-based DJ who is returning home from an international tour with stops in Dubai, Syria, Morocco and the Caribbean.
The Monde Osé Burlesque Ball® is proud to be associated to SHUNGA Erotic Art (Intimate Moments Products) as the title sponsor of this event. Shunga Erotic Art is a corporate International success from Quebec. Monde Osé would also like to thank Simone Perele Lingerie and Il Bolero for their contributions to this event.
For additional details about The Monde Osé Burlesque Ball® you are invited to consult www.mondeose.com.
See past videos of the Burlesque ball® below:
2009
[youtube id= »OhcWD0YzThQ » mode= »normal » align= »center »]
2010
[responsive_vid]
Contact:
Frank Mondeose
frank@mondeose.com