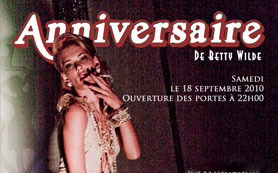 Upcoming Monde Osé Events
Hello All
First off, I would like to thank everyone that attended and participated in Bal Érotique`s 5th year anniversary. It was another very successful event. The theme was selected for some very specific reasons, and we have definitely set the stage for the 2011 Bal Érotique, which we will again strive to raise the bar, and bring this event to whole other level!
Now, with every END, comes a NEW BEGINNING. So on that note, we invite you to RESERVE FRIDAY OCTOBER 22nd, 2010 for our next MONDE OSÉ BALL entitled REINCARNATION!
Get ready for a very hot and sexy night, as on this night we will be BORN AGAIN!
More news about the next Monde Osé Ball will come out very shortly.
——-
Until then, we propose 2 other opportunities to party and get dirty with the Monde Osé Family.
Wednesday September 15
DJ Yovan celebrates his 15 year anniversary as a DJ. He will be holding this celebration at KARMA CLUB located at 4467 St. Laurent. He has personally requested and invited the Monde Osé Family to be in attendance. Therefore, for all of you who would like to come show him your support, wish him Happy Birthday, and dance to his awesome music, send me an email @ frank@mondeose.com so that I can put you on the FREE GUESTLIST!!!
Click here to listen to his 15 yr anniversary mix
Saturday September 18
NEXT SATURDAY, we open the doors to the MONDE OSE FACTORY once again, for an intimate 75 person party as we will CELEBRATE BETTY WILDE'S BUBBLE BITCH BIRTHDAY BASH!

That's right, this will be a « Signature WILDE event », meaning lots of champagne, bad ass music, debauchery and a dirty performance by the birthday girl herself!
You don't want to miss this event as this will probably be our BEST FACTORY PARTY TO DATE.
And, to thank you for your participation at the Bal Erotique, we have decided to lower the price of this « private affair » with a door price of only $10!!! That's right, $20/couple for a private Monde Osé party!
For those of you who have been to the Factory before, you know why this is an awesome price, and for those of you who have never attended a Factory party YET, this is the one you want to start with.
Tickets can be purchased at the door for $10, but you need to RESERVE YOUR PLACE as there will ONLY BE 75 PLACES AVAILABLE.
Please confirm your attendance by emailing bettywilde@mondeose.com with your name and number of people who will be joining you! FIRST COME, FIRST SERVED!
DRESS CODE: OUTRAGEOUSLY GLAMOUROUS
MUSIC STYLE: HOUSE, POP & ROCK (Current and Retro)
A NIGHT OF GLAM, SEXINESS & EXCESS!