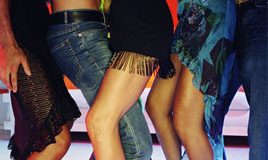 Who is Monde Osé?
We believe that there is a little bit of Monde Osé in everyone.
We believe that anyone can be Monde Osé.
In more practical terms however, Monde Osé members are:
21 years and over with an average of age of 28-35;
Open minded, non-judgmental and have a flair for life;
Sexually curious & adventurous;
Physically attractive and fit;
Sociable and outgoing;
Fashionable and trendy;
Straight, Bisexual and/or Gay;
Multi Ethnic.
The Monde Osé website is working to bring our community more closely together, so that we may all benefit from the magic of connecting with one another. One of our life's missions is to meet and learn from as many interesting people as possible. Our understanding of our lives and surroundings is only strengthened by how many ideas we are exposed to. It's up to you to decide which you like and which you choose to adopt.
The Monde Osé magazine; a blog format magazine
The contributors of the magazine are the people that run Monde Osé, work closely or in partnership with Monde Osé, or independent journalists who contribute to the magazine. It was created in a blog format because most of the articles are our thoughts, opinions and/or ideas. We don't claim to be a true magazine with all of the journalistic standards, but more of a community sharing information to people we consider to be friends.
The magazine was created to:
bring you the latest news about sexuality and Monde Osé lifestyle;
to develop trends originating in Montreal;
and to start a forum of new ideas.
We do not pretend to have any of life's answers, but instead, our goal is to ask the questions, educate and through the comment board, have members share their thoughts and opinions towards our reporting.