Speakeasy Electro Swing : The Music of The Royal Burlesque Ball X
Monde Osé is very pleased to announce our collaboration with Speakeasy Electro Swing who will be providing the musical ambiance of the 10th edition of the famous Royal Burlesque Ball. Speakeasy Electro Swing is a Montreal based group that is comprised of DJ Don Mescal and DJ Khalil, clarinetist J-S Leblanc, and special guest Razz Machine. For the past three years, Speakeasy Electro Swing has been hosting what have become hugely popular monthly events with the mandate to, "spread the swing sound", at a multitude of local venues , as well as traveling to play in Toronto, Vancouver, Boston, Paris, Portland and Seattle.
Speakeasy Electro Swing has brought their sound of swing house, swing hop, breaks, ghetto swing, traditional swing, drum n bass, swing dub, and more, to the stages of The Montreal Jazz Fest, Piknik Electronik, Igloofest, and now to Monde Osé! The Speakeasy audience and fame is rapidly expanding with their career promising to bring them all the way to the top, and we are proud to collaborate with them in bringing our guests the party of a lifetime!
For more information, media, and a complete bio of Speakeasy Electro Swing visit:


Tickets are selling very fast! To get yours and have the chance to be part of the Royal Burlesque Ball 10th anniversary celebration, visit:

Only 200 tickets remain before this event is completely sold out!
Royal Burlesque Ball
Saturday March 14th, 2015
Théâtre Rialto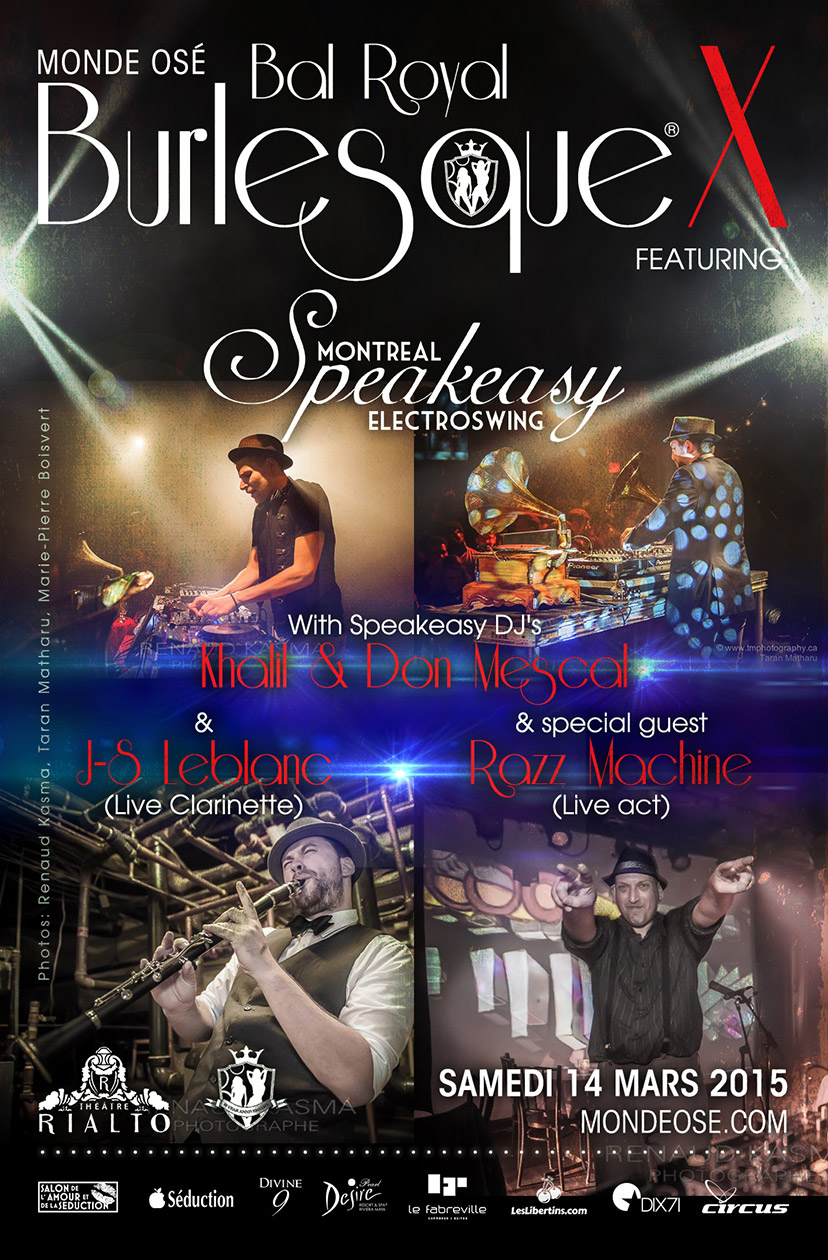 Royal Burlesque Ball: 10 Years in Images
Monde Osé would also like to mention that we will be releasing a series of short videos online, showcasing what we have accomplished in 10 magnificent years of celebrating beauty and femininity. We thank you for your support and continuous interest in Monde Osé. 
Presenting the first video in our series! Stay tuned for more videos being released in the weeks to come.