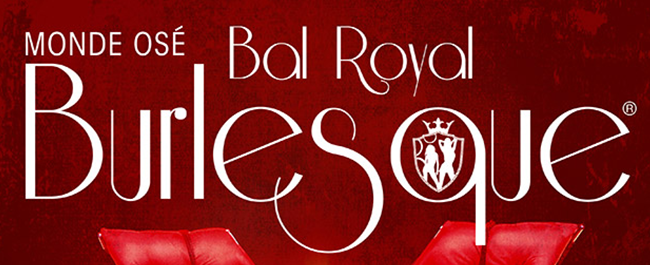 The Royal Burlesque Ball – 10th Anniversary
On March 14th, Monde Osé will proudly celebrate the 10th anniversary of its renowned Royal Burlesque Ball at the Theatre Rialto in Montreal. Over the past decade, Monde Osé's Royal Burlesque Ball has become a pillar event in the daring, sexy, adult, performance and entertainment scene. Monde Osé promises to bring you a night that will exceed expectations and excite all of your senses. In anticipation of the upcoming event, we bring you some tantalizing details regarding the 10th Royal Burlesque Ball, but don't worry; there will be many more spectacular surprises in store!
Burlesque Performances:
We don't just watch Burlesque, WE ARE BURLESQUE! Monde Osé is proud to present the best of the best for our 10 year anniversary.

Roxi D'lite
The Drinkin', Smokin', Strippin' Machine! Crowned Reigning Queen of Burlesque, Miss Exotic World, Showgirl Champion and also recently elected Burlesque Personality of the Year by 21stCentury Burlesque, will come to show off her goods and celebrate with Monde Ose.

Mimi Cherry
Montreal's own sultry siren, tempting and teasing audiences of both men and women everywhere she goes, will also be celebrating her 10th anniversary with the Burlesque Ball. Monde Ose is proud to reach this landmark in the Montreal Burlesque community together with Mimi Cherry.

Lavender May
This renowned beauty, and producer of Montreal burlesque events, is also recognized as being one of the most talented performers on the circuit. Her charm and allure will captivate you, as she will no doubt give an electrifying performance.

Lexxi Brown
This fierce and foxy lady will leave you hot and wanting more. Monde Ose is pleased to bring Lexxi Brown once more to the Montreal Stage and she is sure to deliver an amazing show.
Animation:
The 10th anniversary of the Royal Burlesque Ball will feature animation by the beautiful Glitter Sisters, a troupe of burlesque dancers hailing from Quebec City, and by the mysterious and captivating group of performers known as Cirquantique, for your enjoyment and pleasure.
Music by:

Speakeasy Electro Swing is a Montreal based group that is comprised of DJ Don Mescal and DJ Khalil, clarinetist J-S Leblanc, and special guest Razz Machine. For the past three years, Speakeasy Electro Swing has been hosting what have become hugely popular monthly events with the mandate to, "spread the swing sound", at a multitude of local venues , as well as traveling to play in Toronto, Vancouver, Boston, Paris, Portland and Seattle.
Speakeasy Electro Swing has brought their sound of swing house, swing hop, breaks, ghetto swing, traditional swing, drum n bass, swing dub, and more, to the stages of The Montreal Jazz Fest, Piknik Electronik, Igloofest, and now to Monde Osé!
Dress code:
Monde Osé encourages all of our guests to dress in a way that best expresses their sense of inner burlesque, daring, and sexiness; take this as your chance to declare your sensuality! From formal wear to lingerie, dress to embody the energy of burlesque and glamour.
Note: Coat check on site and persons wearing street clothes such as jeans, will not be admitted.
Services and Conveniences:
VIP Tables
Don't forget that it's possible for you to reserve a VIP table for as little as $480.
VIP entitles you to :
– 2, 40oz bottles of regular alcohol OR, 2, 26oz bottles of premium alcohol
– A private VIP table for the entire event
– Line bypass
– Table goodies as a special thank-you to our Monde Osé VIPs
– Tickets NOT included. All guests must have a ticket to the event.
Monde Osé is pleased to partner with Embassy Suites in facilitating your stay in Montreal. Rooms will be available for reservation by guests of the Royal Burlesque Bal for $149/night, enter promotional code: "Monde Ose" or "Burlesque Ball".
http://embassysuites.hilton.com/en/es/groups/personalized/Y/YULDNES-BB5-20150314/index.jhtml?WT.mc_id=POG
To buy your tickets:


*Please take note that early birds tickets at $55 are already sold out! You can still get your tickets at regular price (65$). Tickets are selling fast, so act soon…

Tickets can also be obtained by going to Boutique Séduction or any Boutique Romance location. By doing so, you can save 15 % on your in-store purchases at regular price.
Royal Burlesque Ball, 10th anniversary
Théâtre Rialto
5723 Avenue du Parc,
Montreal, QC H2V 4G9