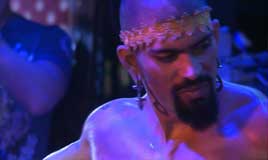 A letter from the Emperor – Kiss & Fly
Chers citoyens de la République de Kiss & Fly,
C'est avec grand plaisir que je vous ouvre les portes de mon palais impérial, et que je vous invite pour une nuit de fête comme la noblesse ne l'a jamais vu auparavant.
Ce 31 décembre nous dirons au revoir à 2009 et accueillerons une nouvelle décennie! Nous profiterons alors de l'opportunité d'une vie plus épanouie et d'un empire plus prospère.
Pour VOUS, nous ouvrirons les portes de l'empire, et nous vous dévoilerons tous les secrets qui entourent les légendes de l'ère romaine dans sa décadence la plus éclectique. Musique, danse, performances vous attendent pour célébrer la débauche.
Rejoignez-moi à cette célébration, et venez vous divertir avec les performances les plus éclatées de nos artistes royaux et de la terre du Monde Osé. Bouger vos corps sensuellement aux sons, sur les rythmes et beats stimulants de nos nobles DJs, et régalez vous des visuels à couper le souffle qui vous envoûteront.
La nuit du 31 Décembre, venez expérimenter le luxe de la décadence romaine au Bain Mathieu!
Confirmez votre présence dès maintenant, car cette opportunité ne se présentera à vous qu'une seule fois par décennie.
CASANOVA CAESAR AVGVSTVS MONDE OSÉ GERMANICVS
Billets disponibles chez Il Bolero:
6846 Saint Hubert, Montreal
514 270 6065
======================
Dear Citizens of the Republic of Kiss & Fly,
It is with great pleasure that I invite you into my ImperialPalace, for one night of celebration as only nobility has ever witnessed before.
On Dec 31st 2009, we will say good bye to yet another year, and usher in a NEW DECADE. With this new decade, we embrace an opportunity for a more fulfilling life and prosperous empire.
On this night, we open the doors of our empire to YOU, and unlock all the secrets that surround the legends of the period of Roman Decadence.
Music, dance, performance and debauchery await, as we feast on the fruits of our dynasty.
Join me in this celebration, as we entertain you with the most titillating performances by our royal performers from the land of Monde Osé, sensually move your body to the sounds of the most stimulating rhythms and beats by our noble DJ`s, and feast your eyes on the breathtaking visuals that will envelope you.
It is on this night of the 31st of December, where you will experience the lavishness of the ROMAN DECADENCE!
Confirm your presence immediately, as this opportunity may only come ONCE in a lifetime.
CASANOVA CAESAR AVGVSTVS MONDE OSÉ GERMANICVS
Tickets available at Il Bolero:
6846 Saint Hubert, Montreal
514 270 6065