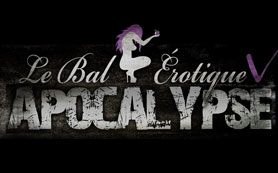 Bal Erotique APOCALYPSE VLOGS!
Hello Warriors,
In an effort to get our guests in the mood for the Bal Erotique theme this year, we are currently creating a series of videos as a social commentary about the Bal Erotique APOCALYPSE.

Here you will see different characters react to the news that there is an APOCALYPSE coming on Aug 21 2010. You will see all types of characters, from military to scientist, material girl to sinner, and NAW News media.

We encourage you to check out these videos every now and then as FREE ENTERTAINMENT, located on balerotique.com in the VLOG section. Also feel free to re-post these videos to your Facebook pages or anywhere else you want to share our messages.

Finally, if you have your own commentary or thoughts about the upcoming APOCALYPSE, we encourage you to film your own episode of which we will post our favourite ones to the Bal Erotique website. To send us your video, go to sendspace.com, and send the file to vlogs@lebalerotique.com

We all have a voice. We all have the opportunity to share an opinion. THE END IS NEAR…What do you have to say?
Spread peace, love and sensuality,
The New Age Warriors.