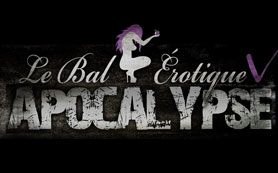 Bal Erotique V ticket information
Good day Warriors.
If you did not already know, THE END OF TIME is upon us!!!

On Saturday Aug 21, 2010, a group of NEW AGE THINKERS, will be regrouping at the Theatre Telus, to transcend the Bal Erotique V: Apocalypse.

We will use LOVE, SENSUALITY, and UNITY to get us through these times.

This will not be a DARK EVENT. In fact, it will be a time of REVIVAL and RENAISSANCE.

JOIN US!!!

http://mondeose.com/index.php/Single-Pages/Event-Tickets

Limited places are still available! RESERVE YOUR PLACE NOW. It's time to MAKE A DECISION!

You WILL experience a night SO ORIGINAL, SO EPIC, that you will come out a LEADER of CHANGE!

A portion of the ticket sales will go to support ECPAT, to help stop sex trafficing of children and young people.

Tickets Available:

http://mondeose.com/index.php/Single-Pages/Event-Tickets

Il Bolero
6842 rue St-Hubert, Montréal

Séduction
5220 Boul. Métropolitain E., Montreal

Boutique Romance
723 Mont Royal E. Montreal

Boutique Romance
38 Ste-Catherine O. Montreal

Priape
1311 rue Ste Catherine Est, Montreal

La Sexerie
145 Curé Labelle #10, Laval

Tickets will also be available at the door for $90/person +tax and service

DOORS OPEN AT 21:00

SHOWS START AT 22:30.

WE SUGGEST YOU ARRIVE BETWEEN 22:00 AND 23:30 THE LATEST, SO THAT YOU MAY FULLY EXPERIENCE THE BAL EROTIQUE.