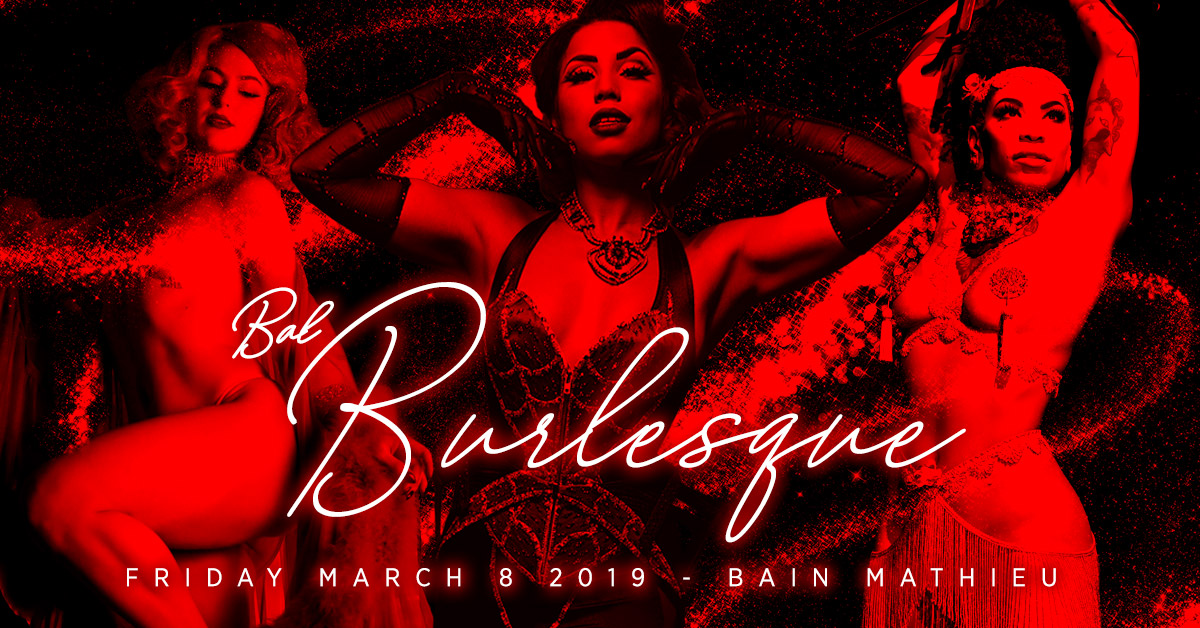 Burlesque Ball 2019 – Performer Lineup Announcement
We are thrilled to announce the illustrious line up for the 2019 Burlesque Ball, a Foxy Lexxi Production. Ready to captivate you with their charms and explosive burlesque performances, these superstars of the stage are going to tease and please until you're begging for more.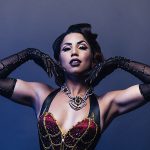 Lou Lou la Duchesse de Rière
Lou Lou la Duchesse de Rière, known as the stripping sensation from the Mohawk nation, has been performing her brand of balls to the wall burlesque for well over a decade. Recently crowned 2018 New Orleans Burlesque Festival Queen of Burlesque and voted into the Burlesque Top 50 by 21st Century Burlesque, She is an internationally recognized performer who has shimmied her way across the stages of New Orleans, Las Vegas, New York, Texas, Detroit, and Chicago.
---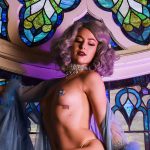 Aria Delanoche
Enigmatic, energetic, and deeply sensual, Aria is a force to be reckoned with. Her performances, while diverse in style, are always guided by an elevated visual sensibility (a trait informed by years of fashion styling and photography) and a flair for the dramatic. Aria took home the awards for "Best Debut" and "Most Classic" at the Burlesque Hall of Fame this year. She is a well-traveled showgirl, spreading her glittery glory from Buffalo to Bucharest.
---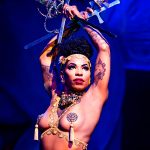 MisSa Blue "The Queen of Fire and Knives"
MisSa Blue has gained international recognition through her highly skilled sword swallowing performances. After launching her career 2010 in London she now continuously headlines Gala events, Variety shows and Burlesque festivals around the world. Besides the intensive world wide touring MisSa is playing a leading role in Germany's GOP Variety production 'Freaks', appears frequently on TV, recently spoke on TEDx and is featured on BBC4/WORLD SERVICE.
MisSa has an active voice supporting black Performance Art and was pioneering in the Burlesque world with being the first sword swallower to be invited to The Burlesque Hall of Fame in Las Vegas and was voted #1 Most Influential Burlesque Industry Figure of 2018 in Europe, and 21st in the world, by 21st Century Burlesque magazine!
"Award winning – extraordinarily skilled – thrilling speciality act. MisSa Blue excites with her tantalising personality and electrifies the whole room out of their seats!" (The Australian Stage).
---
FRIDAY March 8th 2019 – 9pm to 3am


2915, Ontario Street East, Montreal, QC H2K 1X7

balburlesque.com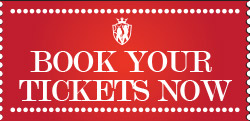 VIP Tables
Don't forget that it's possible for you to reserve a VIP table for as little as $480.
VIP entitles you to :
• (2) 40oz bottles of regular alcohol OR (2) 26oz bottles of premium alcohol
• A private VIP table for the entire event
• Line bypass
• Table goodies as a special thank-you to our Foxy VIPs
Tickets NOT included. All guests must have a ticket to the event.
THIS IS AN EXCLUSIVE EVENT, CAPACITY IS LIMITED
TICKETS:
• Early bird: 55$ until Feb 15th
• Regular: 65$ starts: Feb 16th to March 7th
• Same day: 75$
* Please note: there will be no cash sales at the door! The online box office is open until 1:00am on the night of the event; all tickets need to be purchased through the website and tickets scanned on paper or by phone.*
OUR PARTNER: