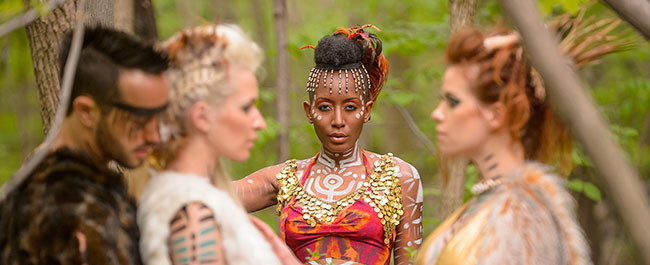 Call of the wild: Bal Érotique IX – Press release 2
Press Release
For Immediate Distribution
Call of the Wild: Bal Érotique IX.
(Montreal, August 27, 2014) Monde Osé invites you to celebrate the ninth edition of the famous Bal Erotique. An out of this world urban tribal gathering is waiting for you on August 30, starting at 9 pm. L'Olympia de Montréal is ready to receive you on this magical evening.
«Bodies intertwined on the dance floor, moving at the rate of hot and seductive rhythms. Celebratory cries shouted in unison by urban tribes singing for freedom. A gathering where, for an evening, guests can drop their masks and abandon themselves to the intoxicating trance-like energy that surrounds them. Call Of the Wild gives us the opportunity to break free from the chains that bind, so that we can awake to the wild animal that slumbers inside us all. It is time to drop our differences and unite, with love, pleasure and a sense of rediscovery, for an unforgettable evening of human collectivity.»
We await you in large numbers on August 30th 2014, at l'Olympia de Montréal
1004 Ste-Catherine East
Montréal, Québec
Also, Monde Osé is committed to community service and development and therefore 1$ of each ticket will be donated to the Sexual Health Network of Quebec.
For any information regarding this year's Bal Érotique, please visit the official website:
For questions or if you are a member of the media and would like to confirm your presence, please feel free to contact:
Stéphanie St-Laurent, Communications Coordinator