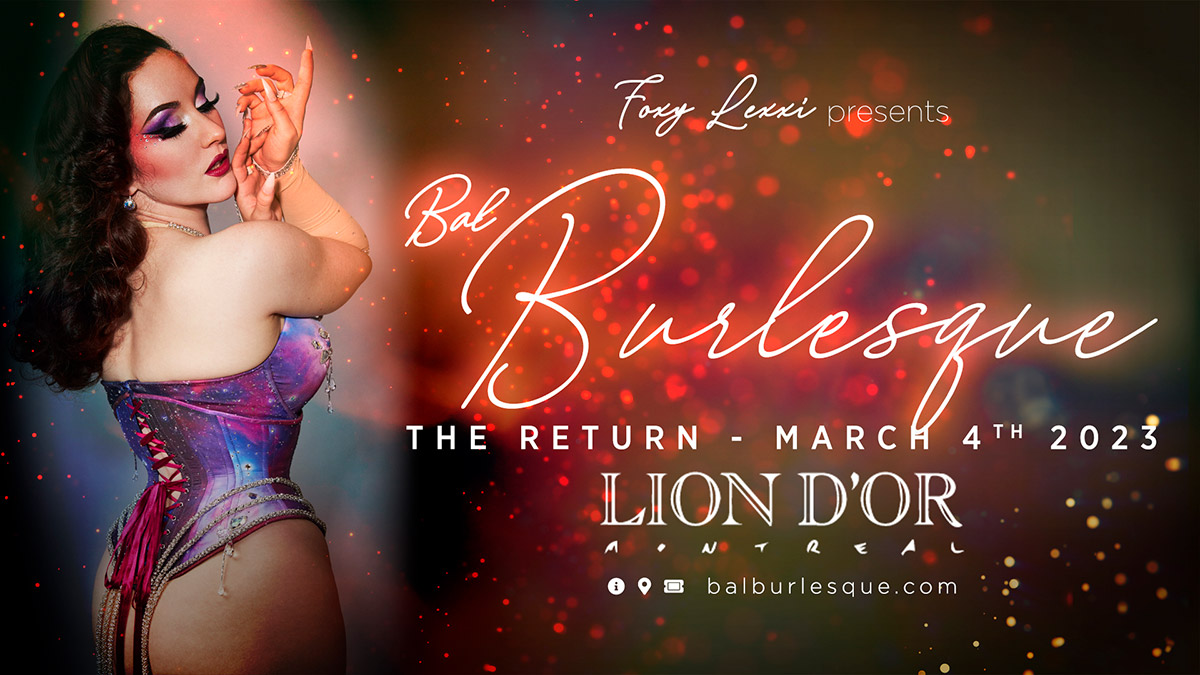 CODE OF CONDUCT | OUR SPONSORS & NIGHT SCHEDULE
Here we are, one week away from our most glamorous, extravagant and sexiest party of the year.
CODES OF CONDUCT
Foxy Lexxi Productions aims to create a unique environment for people to meet, flirt, dance and connect in a setting that is sexy, uninhibited and playful. Although the goal of our party is to have fun with our sensuality, the Burlesque Ball is all about acceptance, tolerance, and RESPECT and we swear by our codes of conduct.
Foxy Lexxi would like to make everyone feel welcome and at the Bal Burlesque, regardless of their gender identity, orientation, or ethnicity; whatever makes you uniquely sexy, we are here to celebrate it. We want women to feel like the Queens of the party and most importantly, set the rules and the limits. Women should feel comfortable to have fun as they please without any advances from unsolicited people. Invited guests should understand and respect even the subtlest signs of a "no" (i.e. that someone is not interested).
Flirtation is encouraged with permission from your playmates but sexual activity is NEVER accepted at our parties. Better yet, we suggest you build the sexual tension throughout the night… and then release it in the privacy and comfort of your own home or hotel room. Excessive drinking, to the point of disrupting other guests' fun, will lead to IMMEDIATE expulsion.
QUEENS
Women should never feel uncomfortable to reject any advance. However, please make an attempt to be courteous. If you feel you are being disrespected, please advise an organiser of the event or see a security agent so that they can be aware of unbecoming behaviors of the specific attendee.
KINGS
Men should remember that it is a privilege to be at this party. With this in mind, male guests at the Burlesque Ball are expected to be charming, chivalrous, friendly, receptive to non-verbal signals and never dominating or aggressive.
---
Meet our amazing SPONSORS: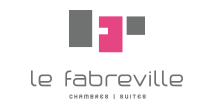 fabreville-bal-burlesqie-300×180.jpg" alt="Le Fabreville" width="300″ height="180″ />
Need a little escape?
A delicious and intimate experience for two? Le Fabreville is the ideal destination for romantic suites with completely refurbished rooms, and excellent service with attention to the smallest details. The hotel is located in Laval on the North Shore of Montreal.
Visit: lefabreville.com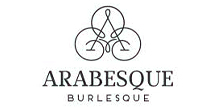 Arabesque Burlesque is a Montreal-based bilingual burlesque academy.
Part dance school, part empowerment centre, they strive to be inclusive and open-minded. Every student – aged 16 years and over – can try this sensual artform built on intersectional feminism. Burlesque will change you! Come try your first class for only $16.
Visit : arabesqueburlesque.com or follow them on social medias @arabesqueburlesque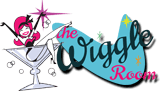 Welcome to Montreal's foremost Burlesque and Variety destination, The Wiggle Room. Located in the heart of Montreal's notorious St. Laurent Boulevard, across from Schwartz's, The Wiggle Room is the Bootleg Baby of this city's Bawdy family tree. Born out of a desire to bring a traditional Vaudeville spirit back to the street that was once known as Montreal's "hardened artery," The Wiggle Room is committed to providing high quality live burleque shows.
The Wiggle Room is Montreal's new home for burlesque, comedy, live music, Improv, performance workshops and of course, cocktails! Stay tuned for event information, casting calls and all the exciting news. And remember, "A Little Wiggle Goes a Long Way!"
Visit : wiggleroom.ca/shows/
---
NIGHT SCHEDULE
9pm
Doors open
10:30pm
Drag Barbada
Burlesque Celesta
Burlesque Lexxi
11:30pm
Burlesque Samson Night
Circus Animation David Menes
12:30am
Burleque Medianoche
Burlesque Lou Lou La Duchesse de Rière
---
Presale: SOLD OUT
Early Bird: SOLD OUT
Regular: 80$ until March 3rd
LATE: 95$ day of event
VIP: SOLD OUT
Saturday March 4th | 9pm – 3am
Cabaret Lion D'or, 1676, rue Ontario est, Montréal (Québec)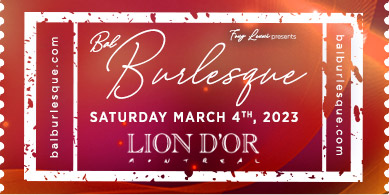 GLAMOUROUS. PROVOCATEUR. THEATRICAL. EROTIC