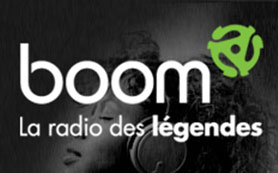 Frank Mondeosé est à Osez… sur BOOM.FM!
Frank Mondeose était l'invité de Véronique Dupont à l'émission Osez… mercredi le 6 mar à 20h30.
Vous pouviez synthoniser BOOM.FM sur le 104,1 FM (St-Jean-sur-Richelieu) et 106,5 (St-Hyacinthe) entre 20h30 et 21h et en rediffusion à 23h et les écouter nous rappeller la Sensuelle Mission de Monde Osé et nous tenter avec le Monde Osé Bal Royal Burlesque ® à venir!
Vous pouvez écoutez sur le net
ici
Frank Mondeosé was Véronique Dupont guest on her radio show Osez… Wednesday  March 6th at 8h30 PM.
You could have tuned in BOOM.FM on 104.1 FM (St-Jean-sur-Richelieu) and 106.5 (St-Hyacinthe) between 20h30 and 21h to 23h and replay and listen to remind us of Monde Osé Sensual Mission and entice you with the Royal Burlesque Ball coming this Saturday!
You could tune in and listning LIVE on the web 
here
!
Or, listen to this replay!