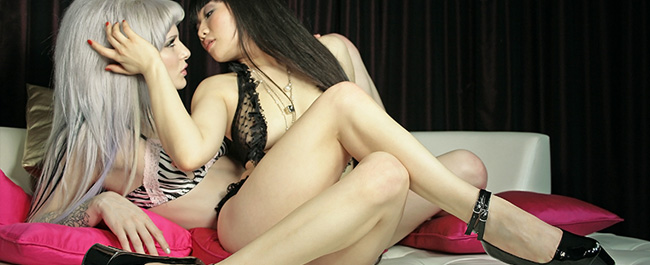 Friday, August 14, 2009 – Bal Erotique IV
Theme of the 2009 Bal Erotique:
A journey through the mind of a sleeping girl's dreams as the rest of the guests party at the most stimulating pajama party ever produced in Montreal.
Schedule
Thursday August 13, 2009 – from 5pm to midnight
Meet and greet at the Provocations Erotic Art Exhibition
Presented by: Conseils des Art du Québec
Location: TBD
Cost: $10
Le Bal Erotique IV
Friday August 14, 2009
Doors open at: 21:00
The ball ends at: 3:00
Club Opera
32 Ste-Catherine St E.
Music by:
Sexy DJ duo: Jeff Fontaine and Lucie Lebel
Opening set by: Luke Native
Performances by:
This year, all the performances will be by MONDE OSÉ ENTERTAINMENT including:
Scarlett James
Maiko
MiMi Cherry
Dress Code:
This year you are invited to a stimulating Pajama/Lingerie party, therefore, "bedtime attire" is obligatory for all participants.
"Bedtime attire" can range from casual cotton pajamas, sleepshirts and nighties, robes and smoking jackets, to sexy lingerie. Combine it with wonderful accessories and shoes to give you a glamorous bedtime look.
Inspiration for women: Lingerie and garters, babydolls and slips, teddies and bustiers, sleep shirts and nighties, halter tops or camisoles, lounge pants or boy shorts, satin or cotton pajamas, nightgowns, body stockings or cat suits, corsets, chemises or night dresses etc. You can also chose to wear fantasy attire or sexy costumes out of a dreamland or body paint etc
Inspriation for men: Sexy t-shirts, tank tops, or muscle shirts, boxer shorts or lounge pants, briefs, robes or smoking jackets. Think Hugh Hefner. Fantasy attire, costumes out of a dreamland or body paint etc.
NO JEANS or casual wear please. This is a red carpet event.
Tickets available at the following points of sale:
Il Bolero
6842 rue St-Hubert, Montréal
Image In
34 rue Mont Royal Est, Montréal
Priape
1311 rue Ste Catherine Est, Montreal
Séduction
5220 Boul. Métropolitain E., Montreal
Lingerie Romance
38 Ste-Catherine O.
La Sexerie
145 Curé Labelle, Laval
Hotel Reservations
For those looking to reserve a hotel room for the weekend, we have group rates starting at $139 per night. Please mention Monde Osé when you are making your reservation or Click Here to book online.
Embassy Suites Montréal par/by Hilton
208, St-Antoine Ouest
Montréal H2Y 0A6
514-288-8886
Reference: Monde Osé
Monde Osé: Montreal's Sexiest Event!