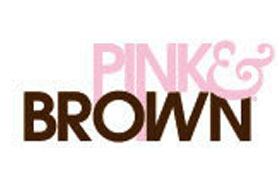 Immobiliers modernes du 20ème siècle – 20th Century modern originals
Please Note: English follows below:
Immobiliers modernes du 20ème siècle!
Seconde vente annuelle de chez Locations luxe et Pink and Brown !
Philippe Starck, Kartell, Eames, chaises Barcelone, Le Corbusier, en acier inoxydable / plexiglas bars, moderne Meubles de patio en osier, coussins, lampe et  luminaires, tapis, tous vendues jusqu'à 90% de rabais au détail!
Mobiliers de hautes qualités déjà loué ou des nouvelles marchandises, boîte ouverte, échantillons de salle d'exposition ou légèrement endommagé. Des quantités limitées, trois jours seulement, premier arrivé, premier servi. Du jamais vu à Montréal. Parfait pour décorer ou aménager votre nouveau condo ou maison.
Jeudi 16 août 10h00-21h00
Vendredi 17 août 10h00-21h00
Samedi 18 août 10h00-21h00
Visa, Mastercard, Interact ou en espèces.
8600 Décarie, coin Côte de Liesse, Ville Mont-Royal unité 60.
De la Savane Metro.
Entrez 5404 Côte de Liesse dans votre GPS.
* Livraison disponible.
Pour plus d'informations n'hésitez pas à nous contacter au 514.989.1818 ou visitez notre site web au www.PinkAndBrown.com
Ou notre évènement Facebook
https://www.facebook.com/events/367114886693340/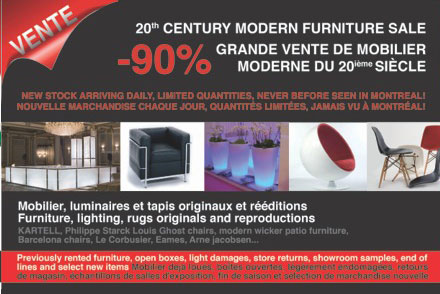 =================================================================
20th Century modern originals
Reproductions and contemporary rental furniture.
Phillip Starck, Kartell, Eames, Barcelona chairs, Le Corbusier, Stainless steel/plexiglass bars, Modern Wicker Patio Furniture, pillows, lighting and rugs, all being sold at up to 90 % off retail!
High quality previously rented merchandise. New, open box, showroom samples or slightly damaged. Limited quantities, three days only, first come first served. Never seen before in Montreal. Perfect for decorating your new condo or house.
Thursday august 16   10:00 – 21:00
Friday august 17     10:00 – 21:00
Saturday august 18   10:00 – 21:00
Visa,Mastercard, interact or cash.
8600 Decarie, corner cote de Liesse, unit 60 in TMR.
De la Savane Metro.
Enter 5404 Cote de Liesse in your GPS.
*Delivery available.
For more information do not hesitate to contact us at 514.989.1818 or visit or website at www.PinkAndBrown.com or on Facebook, Luxe rentals.
Check out the Facebook page here:
https://www.facebook.com/events/367114886693340/