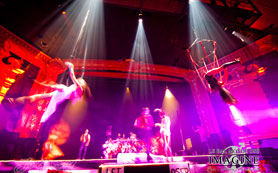 La vision et mission de Monde Osé en 2011 – Un message de Frank Mondeose
Chers membres de Monde Osé,
Il ne reste plus que 3 semaines avant notre évènement sensuel le plus grand et plus élaboré jamais fait!
Pendant 6 ans, Monde Osé a pris soin de couples sélectifs recherchant des évènements élégants et stylisés qui promouvoie l'ouverture et la sensualité. Grâce à vous, nous avons bâti une belle communauté et avons partagé des moments de paix, d'amour et de sensualité mémorables que nous chérissons.
Cette année, après 6 ans de dure travail et de dévotion pour notre mission, Monde Osé a capturé l'attention d'Evenko, le producteur d'évènement le plus large au Québec et les gérants du Centre Bell. Les exécutifs d'Evenko ont suivis notre concept et notre croissance au cours des 6 dernières années et croient que la société grandit dans la même direction soit vers une plus grande ouverture d'esprit et acceptation en ce qui concerne la vie, l'amour et la sexualité. Pour cette raison, ils se sont engagés à un contrat d'évaluation d'un an avec Monde Osé afin d'expérimenter ce qu'est un évènement Monde Osé.
Notre intention mutuelle est d'agrandir le bal Monde Osé afin de le déplacé au Centre Bell et d'en faire un point central et incontournable en terme de divertissement sensuel dans le monde.
Le Bal Monde Osé sera le phare des évènements annuels qui rassemble des gens beaux et séduisants, les meilleurs DJs internationaux et une liste de célébrités, ce qui va créer un évènement unique reconnu internationalement.
C'est ce que Monde Osé a voulu accomplir lors de son parcours. Notre mission a toujours été d'emmener notre vision aux masses, pour aider à démontrer à la société que la sensualité existe dans chacun de nous, si nous nous permettons de connecter avec celle-ci et de s'ouvrir à son expression.
Le Bal Monde Osé donne à chaque individu l'opportunité d'exprimer leur côté sensuel à travers des habillements sexy et de la danse, pendant que nous vous divertissons avec les performances et l'animation sexy du plus haut calibre!
Nous espérons que vous allez embarquez dans ce voyage d'IMAGINATION et de SENSUALITÉ avec nous, alors que nous passons à l'étape suivante dans le fait d'amener la paix, l'amour et la sensualité dans le courant principal.
Ceci est le moment que nous avons tous attendu. Le moment où nous ouvrons les esprits et les cœurs du monde en inaugurant une ère où règnent l'acceptation, l'ouverture et la tolérance. Un temps où les gens peuvent être eux-mêmes et où la société se souviens que les humains sont des êtres sexuels, et où nous pouvons CÉLÉBRER LA SENSUALITÉ dans un évènement de première classe qui unit les gens qui osent dans des moments de bonheur partagés.
Nous esperons partagé la magie avec vous à IMAGINE 2011
S'il vous plait montrez votre support en achetant vos billets et en passant le message à vos amis sur Facebook et Twitter!
Billets : http://www.balmondeose.com/billets-2/
Site Web : http://www.balmondeose.com/
Vidéos : http://www.balmondeose.com/videos-2/
Je vous souhaite tous amour, lumière et prospérité.
Frank Mondeose
Facebook: http://facebook.com/frankmondeose
Twitter: http://twitter.com/mondeose
________________________________________
The vision and mission of Monde Osé in 2011 – A message from Frank Mondeose
Dear Monde Osé members
It's now only 3 weeks before our biggest and most elaborate sensual event yet!
For 6 years Monde Osé has catered to discerning couples looking for elegant and stylized events that promote openness and sensuality. Thanks to all of you, we've built a beautiful community and have shared moments of peace, love and sensuality that we all remember and cherish.
This year, after 6 years of hard work and dedication to our mission, Monde Osé captured the attention of evenko, the largest event producer in Quebec and the managers of the Bell Centre. The executives at evenko have followed our concept and growth over the last 6 years and believe that society is growing towards a more open minded and accepting place in regards to life, love and sexuality. For this reason, they've committed to a one year evaluation deal with Monde Osé to experience first-hand what a Monde Osé event is like.
Our mutual intention is to grow the Monde Osé Ball so that it can be moved to the Bell Centre and truly make us a focal point in Sensual Entertainment around the world. The Monde Osé Ball will be the flagship annual event that will bring together beautiful, sensual people, top international DJ's, and A-list celebrities to create a one of a kind event that will be internationally recognized and promoted.
This is what Monde Osé has been working to accomplish during our journey. Our mission has always been to bring our vision to the masses, to help show society that sensuality exists in each and every one of us if we allow ourselves to connect with it and be open in expressing it.
The Monde Osé Ball gives every individual the opportunity to express their sensual side through sexy outfits and dance, while we entertain you with the highest calibre sexy performances and animation!
We hope that you will embark on this journey of IMAGINATION and SENSUALITY with us, as we take the next step in bringing peace, love and sensuality into the mainstream.
This is the moment we have all been waiting for. The moment where we open people's minds and hearts to usher in an era where acceptance, openness and tolerance reign! A time where people can be themselves and society remembers that humans are sexual beings, and where we can CELEBRATE SENSUALITY at a first class event that unites all daring people for moments of shared bliss.
We hope to share the magic with all of you at IMAGINE 2011.
Please show your support by purchasing your tickets and spreading the word to your friends on Facebook and Twitter!
Tickets: http://www.mondeoseball.com/tickets-2/
Website: http://www.mondeoseball.com/
Videos: http://www.mondeoseball.com/videos/
Wishing love, light and prosperity to you all.
Frank Mondeose
Facebook: http://facebook.com/frankmondeose
Twitter: http://twitter.com/mondeose