Last chance for Stripped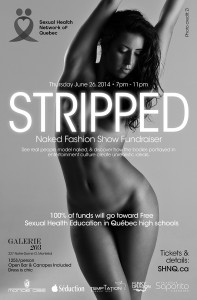 Hello Monde Osé.
This week we have a very important event taking place which we would like you to consider supporting.
The Stripped Naked Fashion Show Fundraiser to support Sex Education in Quebec Highschools.
We have over 30 people confirmed and ready to walk the catwalk STRIPPED NAKED this Thursday June 26 at Galerie 203 to raise awareness about the lack of sex education in Quebec Highschools.
These are the radical actions we are willing to take to create radical change.
For your information, Frank Mondeose as well as some other Monde Osé staff will be part of the fashion show.
WE NEED YOUR HELP. Please support the cause.
Buy a ticket and join us. Let our voice be heard.
Come and enjoy a 5 star event:
Open bar, Canapes, Gifts, Raffle for a 1 week vacation to Temptation Resorts, Art Exhibit and NAKED FASHION SHOW.
100% of the proceeds will be going to offer free sex ed in Montreal Highschools.
Where else can you experience something like this. ONE NIGHT ONLY.
SUPPORT THE CAUSE AND LET LOVE FREE!
Tickets and information available here:


BUY NOW: