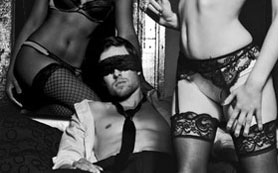 Le Bal Erotique VII revient en vous élevant à l'âge d'or d'Eros
MONTRÉAL, QUÉBEC–(Marketwire – 21 août 2012) –Fantasmesest le thème choisi pour célébrer la renaissance continue de la sensualité et du désir. Monde Osé®invite à la fois l'espiègle et l'audacieux à venir vêtu d'une tenue qui exprime ses désirs et fantasmes.
Imaginez-vous au-delà du réalisme effréné de 2012, où Alice au pays des Merveilles rencontre Eyes Wide Shut! Dansez sur la voie sensuelle d'une nuit magique aux possibilités infinies.
Des coins secrets, des personnages excentriques et une profonde musique house sexy pour vous hypnotiser et vous séduire. Laissez le Bal Erotique® VII vous emmener dans une nuit de voyage intime et chaleureux. Monde Osé a choisi l'endroit idéal pour l'exploration, la surprise et l'intrigue sensuelle.
Aventurez-vous dans les profondeurs du Velvet ou vers la hauteur de l'Auberge Saint-Gabriel pour une expérience vibrante dynamique et interactive. Des artistes aux talents variés offriront des performances spontanées, certaines pourront être poliment regardées prr les voyeurs en vous et d'autres accueilleront votre participation directe pour les plus sensuellement osés d'entre vous.
Cette année nous accueillons le légendaire et pionnier DJ de la scène House musicale montréalaise et internationale, Robert de la… Gauthier, qui sera en tête d'affiche de l'événement. Attendez-vous à des jeux musicaux variant de sons sexy et orgasmique, incluant du tech house, dirty disco beats et du house progressiste.
Dans le Velvet retrouvez le renommé DJ Steven Caicedo de New York qui jouera un mélange éclectique de deep house sensuel.
Le Bal Erotique® VII nous rappelle que le fantasme est une nécessité vitale en 2012. N'oubliez pas de l'Imaginez, de le rêvez et de le vivre.
Le Bal Erotique® VII aura lieu le Dimanche 2 Septembre à L'Auberge Saint-Gabriel, 426 rue Saint-Gabriel, Montréal, QC
Les billets sont 65 $ taxes incluses et sont disponibles à http://balerotique.com et aux points de vente participant.
Cliquez ici pour voir une vidéo promotionnelle du Bal Erotique® VII : http://vimeo.com/46584358
Le Bal Érotique® est le plus grand événement opulent et sexy du Canada, conçu pour célébrer l'amour, la sensualité et la liberté d'expression à travers le meilleur de ce que Montréal a à offrir en musique, performances artistiques en direct et la participation de l'audience créant une expérience multi-sensorielle vraiment unique et exceptionnelle.
Original release HERE:
http://www.marketwire.com/press-release/le-bal-erotiquer-vii-revient-en-vous-elevant-a-lage-dor-deros-1692730.htm
==================================================================
ENGLISH:
MONTRÉAL, QUÉBEC–(Marketwire – Aug. 21, 2012) – Fantasies is the chosen theme to celebrate the ongoing revival of sensuality and desire. Monde Osé® invites both the playful and the daring to arrive dressed in an outfit that expresses your fantasies.
Dream into the wilderness of 2012: Alice in Wonderland meets Eyes Wide Shut. Dance your way into a magical night of infinite possibilities.
Hidden rooms, eccentric characters, and deep sexy house music to hypnotise and seduce. Let Le Bal Érotique® VII take you on an intimate night-time journey. Monde Osé has chosen the perfect location for exploration, surprise and intrigue.
Venture down into the Velvet, or up into l'Auberge Saint-Gabriel for a vibrant interactive experience. Performers of diverse variety offer spontaneous shows, some to be politely observed, and others that welcome your direct participation.
We are welcoming legendary DJ and pioneer of the Montreal house music scene, Robert De La…Gauthier who will be headlining the event. Expect a diverse, sexy and orgasmic musical set including tech house, dirty disco and progressive beats. In the Velvet, renowned New York City DJ Steven Caicedo will be playing an eclectic mix of sensuous deep house.
Le Bal Érotique® VII tells us that fantasy is a total necessity for 2012. Remember to Imagine.
Le Bal Érotique® VII will take place on Sunday September 2nd at L'Auberge Saint-Gabriel, 426 Rue Saint-Gabriel, Montreal, QC
Tickets are $65 taxes included and are available at http://balerotique.com and participating points of sale.
For a video teaser of the event visit http://vimeo.com/46584358
Le Bal Érotique® is Canada's largest opulent sexy event, designed to celebrate love, sensuality and freedom of expression through the best Montreal has to offer in music, live performance art, and audience participation creating a truly unique multi-sensorial experience.
Original Article HERE:
http://www.marketwire.com/press-release/le-bal-erotiquer-vii-returns-to-usher-in-the-golden-age-of-eros-1692729.htm