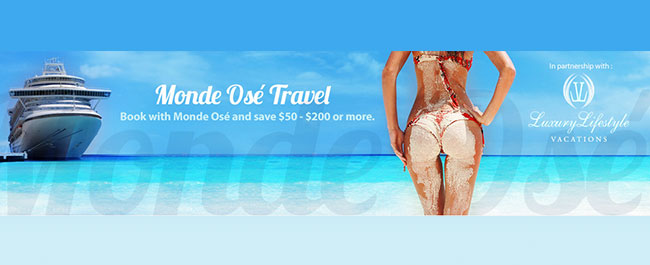 Monde Osé and Luxury Lifestyle Vacations – New partnership
Monde Osé is proud to present you, our exclusive new worldwide vacation partner. In the upcoming year, Monde Osé will offer all of Luxury Lifestyle Vacations so that you can discover the biggest network of erotic getaways.
Offering cruises and various resorts worldwide, Luxury Lifestyle Vacations is sure to satisfy all curious travelers and tastes. By visiting Monde Osé's official website, and clicking the TRAVEL tab, you will find all the upcoming departures and destinations. Furthermore, by reserving your vacation via Monde Osé, you are assured to save $50 to $250 on your selected trip. There is nothing better than saving money! For more information, visit http://mondeose.com/travel/, and start shopping for your next journey RIGHT NOW!