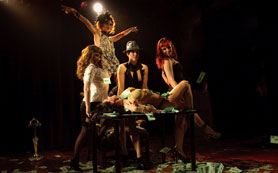 Monde Osé Entertainment signs on with the Everything to do with Sex Show for their Eastern Canadian Tour
(Montréal, October 27, 2010) After the success of last February`s stage shows at le Salon de l'Amour et de la Seduction, directed by Monde Osé Entertainment, the Everything to do with Sex Show (Canadian version of le Salon) awarded a 6 city tour deal to Monde Osé Entertainment. The agreement was finalized just days before their first show in London, Ontario on October 1st – 3rd.
This 6 city tour deal consists of directing, managing and executing the overall stage entertainment of the Sex Show franchise for the 2010-2011 tour season. Monde Osé Entertainment will be responsible for developing a unique Monde Osé cabaret style show, this year entitled: The MOB Ball (MOB being the acronym for Monde Osé Burlesque).
"The MOB Ball", is a story of an enterprising woman, who sets her sights set on dethroning the current MOB boss. Using her harem of talented and seductive showgirls, she sets in motion a plan that brings her to the top of the underworld! A show that can be defined in 4 words: STRIP CHIC & MAFIA GLAM! For a preview click here:
http://mondeose.com/index.php/Event-Videos/M.O.B.-Ball-2010-official-event-video
In addition to the MOB Ball Cabaret Show, the Monde Osé Management team is also responsible for 3 other show tracks, including: the Celebrity Show headlined by Roxi Dlite, the current reigning Queen of Burlesque, and the up and coming Quebec pop sensation Jessy Gauthier, who will be debuting his first single SEX in each of the 6 cities.
The Everything to do with Sex show (and Salon de l`Amour et de la Seduction) will run from October 2010 to February 2011 in the following cities:
London, Ontario: October 1-3, 2010
Hamilton, Ontario: November 5-7, 2010
Toronto, Ontario: November 19-21, 2010
Quebec City, Quebec: January 7-9, 2010
Montreal, Quebec: January 21-23, 2010
Halifax, Nova Scotia: January 28-30, 2010
For more information contact:
Frank Mondeose
Monde Osé Entertainment
Frank@mondeose.com
Monde Osé is a lifestyle brand focused on promoting the understanding and enjoyment of life, sensuality and sexuality through high end event production and marketing. Monde Osé is a registered trademark of Booza inc.