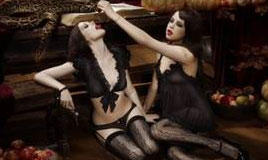 Monde Osé Entertainment to produce the stage shows at Le Salon de l'Amour et de la Séduction 2010

Press Release
For Immediate Diffusion
Monde Osé Entertainment to produce the stage shows at Le Salon de l'Amour et de la Séduction
(The Everything to do with Sex Show)
---
(Montréal, January 4th) From January 22-24th, Monde Osé will produce and present the main stage entertainment at the 16th edition of Le Salon de l'Amour et de la Séduction. After Monde Osé's success with the Bal Erotique, and the increasing popularity of their erotic performance art events, the new owners of Le Salon de l'Amour et de la Seduction chose Monde Osé to take the entertainment to new levels, including the development of 2 new shows, the Monde Osé Cabaret and the Guilty Pleasures Fashion Show. Both shows will run regularly over the 3 days of the Salon that will take place at Place Bonaventure from January 22 to 24, 2010.
In addition to the new stage shows, the Salon has added many new features, upgraded old ones, and is moving back downtown. This promises to be the best Salon ever!
The owners of The Everything to do with Sex Show in Toronto, London and Halifax purchased the Salon over a year ago and are committed to rebuilding the reputation of this erotic event in Montreal. In a time of tight budgets and downsizing, they decided to go against the grain and invest in Montreal, and help put sin city north back on the map, as one of the leading centres of eroticism in the world.
To do this, they looked at Montreal's erotic landscape and believe that Monde Osé has led the way in "daring" people sexually over the past 5 years through their high end, classy, yet overtly sensual and seductive entertainment. Monde Osé is a perfect match for their new Montreal acquisition, and representative of the erotic trends of today's society.
Together, they are perfectly poised to take the first step towards making the Salon de l'Amour et de la Séduction an international showcase of sexuality and eroticism.
Don't miss this event. For more information about the Salon and tickets visit www.everythingtodowithsex.com or www.amouretseduction.com and see www.mondeose.com for more news about Monde Osé. Come meet the Monde Osé team and visit them at their booth this January. Monde Osé – Opulent Sexy Entertainment.
For more information contact:
Frank Mondeose
Monde Osé Entertainment
Frank@mondeose.com