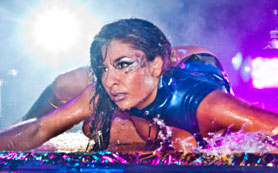 Monde Osé events for Fall 2011
Bonjour Monde Osé,
Prenez note des évènements reliés à Monde Osé cette automne 2011
Débutant avec une soirée GRANDIOSE ce vendredi 23 Septembre.
Défilé de Mode de Latex Madria
Les portes ouvrent à 20h
Le Défilé commence à 21h
10$ par personne
RSVP : madria@mondeose.com
PLACES LIMITÉES
After Party du Défile
5ème anniversaire de CLIMAXXX avec Danny Torrence
Velvet – Auberge St-Gabriel
426, Saint-Gabriel
Party dansant ouvert à tous.
Gratuit avant minuit
$10 apres minuit
Samedi le 1 octobre
Party de fermeture du Monde Osé Factory
Après deux ans de merveilleux souvenirs, nous devons malheureusement fermer les portes du Monde Osé Factory.
Venez vous joindre à nous pour une DERNIÈRE DANSE au Factory.
Gens d'exceptions, excellente musique, UNE NUIT DONT ON SE SOUVIENDRA.
Nous offrirons un B@R OPEN
Prix: CONTRIBUTION
Faisons de cette soirée UNE NUIT MÉMORABLE.
Espaces limités.
RSVP¨: info@mondeose.com
Vendredi 28 Octobre
Boudoir Masquerade – Bal d'halloween de Monde Osé
Au Club Cherry – 417 St-Pierre
Lingerie, vêtements style Boudoir, tuxedos, ou ce qui vous inspire!
Utilisez votre imagination.
Habillements légers, petits masques, UNE NUIT SOMBRE OÙ ULTRA SEXY !
Seulement 200 Billets disponibles
Les billets sont accessibles pour les membres de Monde Osé jusqu'au 23 septembre et ensuite seront disponibles par invitation seulement.
Les billets sont 50$ taxes et frais de service inclus.
ACHETEZ VOS BILLETS DÈS MAINTENANT POUR ASSURER VOTRE PLACE AU PARTY D'HALLOWEEN LE PLUS SEXY DE L'ANNÉE!
________________________________________
Hello Monde Osé
Please take note of the Monde Osé related events coming up this Fall 2011
Starting with a GREAT night this FRIDAY September 23rd.
Madria Latex Fashion Show
Doors open at 20:00
Fashion show starts at 21:00
$10 per person
Monde Osé Factory
Space is limited.
RSVP: madria@mondeose.com
Fashion show Afterparty:
CLIMAXXX 5th year Anniversary with Danny Torrence
Velvet Underground – 426 Saint Gabriel
FREE before Midnight
Public dance party open to all.
Saturday October 1st
Monde Osé Factory Closing party
After 2 years of great memories, we unfortunately have to close the doors to the Monde Osé Factory.
Come join us for the LAST DANCE at the Factory.
Great people, great music, GREAT MEMORIES.
We will be offering an OPEN B@R
Cost: BY CONTRIBUTION
Let's make this a night to remember.
Space is limited.
RSVP: info@mondeose.com
Friday October 28th
Boudoir Masquerade – Monde Osé Halloween Ball
At Cherry Club – 417 St. Pierre
Lingerie, boudoir attire, tuxedos, or whatever inspires you!
Use your Imagination.
Little clothing, small masks, ONE DARK AND DIRTY NIGHT.
Only 200 tickets are available!
Tickets available to Monde Osé Members until Friday September 23rd.
After that it will be by INVITATION ONLY.
Tickets are $50 tax and services included.