Monde Osé wants to spoil their members
We are only a few weeks away from the 10th anniversary of the Royal Burlesque Ball and Monde Osé wants to be generous and spoil our most enthusiastic members! Starting this week and running until March 13th, 2015, you will have the opportunity to win one of multitude of prizes including a night in a suite at the luxurious Fabreville; a 3-day stay at Desire Rivera Maya resort in Mexico; several gift bags from Boutique Seduction; and free tickets for the Salon de l'Amour et de la Séduction and the Royal Burlesque Ball. For a chance to win, all you will have to do it is our Facebook page and LIKE, SHARE, AND COMMENT on one of our status updates!

The winners will be announced every Friday. Good luck to all!
Dress code and Inspiration for Bal Burlesque
Enter the world of Monde Osé, where glamour and opulence meets sex and sensuality.
The Royal Burlesque Ball is at the pinnacle of celebrating femininity, sexuality, and extravagance. We encourage our guests to join in this celebration by dressing in a way that expresses their own sensuality and channel the spirit of Burlesque. Ladies, don your corsets, feathers, jewels and satin; from evening gowns to your most luxurious lingerie, be daring and revel in the beauty of women. For all of you debonair gentlemen, get sharp in your best suit or tux, or surprise us with an original flare, and dress to impress on this extraordinary night.
Please note: Street clothes such as jeans will not be permitted; minimum dress code requirement is semi-formal. There will be a coat check onsite.
Monde Osé is proud to present you the second video on its series celebrating the 10th anniversary of the Burlesque Royal Bal.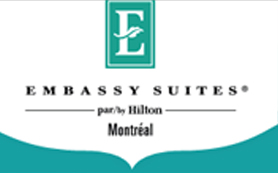 Don't forget that you can book a room with Embassy Suites to facilitate your stay in Montreal. Rooms will be available for reservation by guests of the Royal Burlesque Bal for $149/night, enter promotional code: "Monde Ose" or "Burlesque Ball".
http://embassysuites.hilton.com/en/es/groups/personalized/Y/YULDNES-BB5-20150314/index.jhtml?WT.mc_id=POG