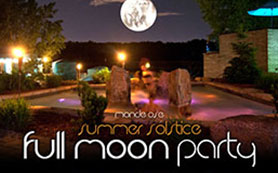 Monde Ose's Summer Solstice Full Moon MUSIC complilation
HOT OFF THE PRESSES!!
Monde Ose's Summer Solstice Full Moon event was a massive success; even with the rainy start! Replete with a dynamic mix of beautiful people, hot bodies, breathe-taking vistas, waterfalls, thermal spas, glass-walled saunas and a sense of fun, sensuality and magic was certainly in the air.. and this mix captures the atmosphere perfectly!
If you loved this Mix, make sure to catch Steven & Thomas on their personal Soundcloud for other mixes:
Mix Full Playlist:
01. Intro
02. Sylk 130 – Season's Change (Philharmonix Mix) (Ovum)
03. DJ Pippi, Tucillo & Kiko Navarro – Higher (Yoruba)
04. VCB – Love Prescription (Original Mix) (Delusions Of Grandeur)
05. Dub Taylor – MindStroke (Rotary Cocktail)
06. Prommer & Barck feat Lois Longerling – Lovin (Andre Lodemann Remix)
(Best Works)
07. Agaric – Nahua (Ovum)
08. Fred Everything – The Sound (Lazy Days)
09. Nathan Adams – Falling (Quentin Harris Vocal) (Tribe Records)
10. Patrice Khuzwayo Feat. L't Adams – Listen To Your Mind (Originall
Mix) (Atal Music)
11. Deejaykul – Dream Deep (Atjazz Astro Dub) (Atjazz Record Company)
12. The Layabouts Feat. Shea Soul – Perfectly (Atjazz Vocal Mix) (Reel
People Music)
13. Nicholas – Love Message (Home Taping is Killing Music)
We want to remind you that you can purchase every tracks played on this show on diferent stores or digital platforms such as Beatport or Traxsource.
This is very important, we purchase every track we play so please do the same and suport House Music scene, Artists, Producers and Labels.
If you are an artist or record label owning the content we're playing in this show and have any concerns about it, please let us know and we will remove the track and/or the Mix.
Lovingly,
Steven Caicedo
Monde Osé Music Director.