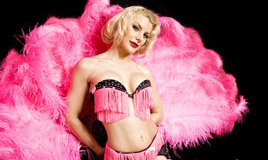 Montreal Burlesque Festival – Living in skin
September 17th, 2009
Montreal Burlesque Festival
Living in skin
by: Roseanne Harvey
The stars of stripping down get ready to get us hot and bothered at the first Montreal Burlesque Festival.
While few doubt Montreal's inherent sexiness, it's still a bit of a free-for-all, from dance clubs to strip clubs to sexy breakfasts. This weekend's inaugural Montreal Burlesque Festival sashays into town with a more organized agenda of saucy fun and sexy shows. And for burlesque fans in Montreal, the sentiment is: finally. New York, San Francisco, Toronto, New Orleans, even puritanical Vancouver, all host annual gatherings of burlesque performers and fans.
"I feel that now is the time," says festival organizer Scarlett James, who spearheaded the project in April. "Not next year, not last year. People are ready and the demand is there."
Holly Gauthier-Frankel, better known as burlesque dancer Miss Sugarpuss, and one of the festival performers, agrees: "This festival is so overdue, yet so timely. Montreal is probably the last major North American city to get a burlesque festival."
This is a chance for Montreal to strut its stuff, as burlesque entertainers from around the globe mingle with the local community. Some of the biggest personalities in the North American burlesque scene will be there, including Kalani Kokonuts (Miss Exotic World 2009 and reigning queen of burlesque), internationally acclaimed Michelle L'Amour, the unconventional Miss Dirty Martini, and Canadian divas Coco Framboise and Roxi Dlite. Their names alone are enough to get the drift of what kind of sexy fun we're in for.
Body language lessons

For a local girl such as Gauthier-Frankel, this festival is an amazing
opportunity for international exposure. With a background in English literature/women's studies and musical theatre, Gauthier-Frankel encountered body image issues in the television industry where she was repeatedly told she was fat. She started writing and performing burlesque routines because it was a way for her to connect her artist self with her whole self.
"For me, burlesque is a feminist issue," says Gauthier-Frankel. "All I wanted to do was assert myself in an artistic sphere. Burlesque is my way of saying: I won't accept. When I'm dancing, I'm challenging myself and the audience. I'm making you gaze upon my imperfect body."
What happens at a burlesque festival, anyway? As you'd expect, ladies will be twirling their tassels and getting down to their g-strings, but there's a whole lot more – to look at and to talk about. The event starts on Thursday night with a screening of recent burlesque documentary A Wink and a Smile at Cinéma du Parc, while Saturday's workshops with featured performers offer a bevy of tips on everything from the art of the tease to how to work a boa, from body acceptance to pole dancing.
But at the heart of the festival are the Friday-night gala event and the Saturday-night competition. "The Friday night gala is my baby," says James. "I want to show Montreal the big, big stars. It's a way to present the difference between a young performer and more experienced performer."
New-era naughty

While stripping down plays a key role in the festival, performances will include more than striptease. "Classical burlesque shows had more than dancers," notes James. "So we've included tap dancers, magicians, a Chinese pole artist, bands, 'gender illusionist' Ms. Mona Moore, and swing dancers."
The "classical burlesque" era that James is talking about took place from the 1890s to the 1960s, and correlated with the evolution of vaudeville. Cabaret-style events showcased naughty striptease along with comedy, magic and circus acts. But as social standards changed in the 1960s, burlesque faded away, replaced by more raunchy and "direct" strip clubs. Entertainment styles and preferences changed too as cabaret venues were replaced by movie theatres.
Since the mid-1990s, the art form has experienced a revival – and there are countless theories for the resurgence. Interest in burlesque swelled as the swing and rockabilly movements gained momentum, suddenly making everything retro and vintage cool again. In an age where everything is hypersexualized, contemporary burlesque performers leave more up to the imagination, and make sexuality playful, naughty and fun again.
Hot history

Because Montreal too had a place in burlesque's classic era, Scarlett has made sure to honour the city's cabaret legends. Saturday's festivities will open with a speech by Ethel Bruneau, a dancer who landed in Montreal from Harlem with the Cab Calloway Revue in 1953. Classic cabaret singer Geraldine Doucet will also be performing, just weeks before she celebrates her 80th birthday.
"Montreal used to be the place in North America," says James. "People used to come from all over. It was known as Sin City. But it's very difficult to find out anything because there's not a lot recorded or documented information. I'd like to do more, but a lot of the people have passed away."
Given the energy and support for Montreal's inaugural burlesque festival, why has it taken so long to arrive in a city with a reputation for being so sexy, laidback and creative?
"The burlesque community in Montreal is divided," says Gauthier-Frankel. "There's an anglo/franco division and there are aesthetic differences. It's taken a long time for somebody to step forward and try to bridge the divide."
James concedes. "Part of the mission of the festival is to unite everybody in Montreal because there aren't as many performers as in some other cities. By doing the festival I was hoping to have everybody come together. And that it will leave everyone wanting more… like a good striptease."
The First Montreal Burlesque Festival
At Studio Just For Laughs (2111 St-Laurent Blvd.), Sept. 17-20
See www.montrealburlesquefestival.ca for full program