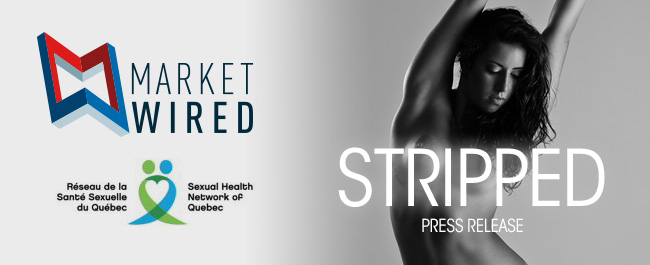 Naked Fashion Show to Raise Funds as Part of a Free Sex Ed Initiative for Youth
MONTREAL, QUEBEC–(Marketwired – June 17, 2014) –
A healthy self-image is the foundation for a healthy personal development, and a great place to start when teaching Sexual Health to teens.
On Thursday June 26, 2014, the Sexual Health Network of Quebec (SHNQ) will be hosting a Naked Fashion Show Fundraiser, to promote awareness about the lack of consistent and comprehensive sex ed programs in Quebec public high schools, most of which are no longer being provided as part of the government's curriculum. 100% of the proceeds will go toward free sexual health programs taught by professional sexual health educators, at no cost to the schools.
At Stripped, SHNQ intends to show the true beauty of real men and women who have bravely volunteered to appear nude as an effort to help raise funds for Sexual Education. Too often, people, especially at a young age, strive to compare themselves to the unrealistic portrayals of beauty and relationships propagated by mass media, which are often unattainable and only perpetuate a negative self-image and low confidence.
With parents' general discomfort to discuss sex, the absence of any real sex ed among Quebec teens has reached epidemic levels. "We need to start a real conversation about the importance of sex ed, which should incorporate critical topics like consent, readiness, body image, self-esteem and other pressing issues beyond the basic fear-based tactics of STI's and unwanted pregnancy," says SHNQ President and CJAD radio host Dr. Laurie Betito.
The SHNQ invites the media to attend and join in the conversation of asking government policy makers to start addressing the need to build comprehensive sex ed programs that foster a healthy self-esteem, which will help Quebec teens improve their personal and social development.
The first ever Stripped: Naked Fashion Show Fundraiser will take place at Galerie 203 located at 227 Notre-Dame O. in Montreal, and will include hors-d'oeuvres, an open bar, gifts from the sponsors, an art exhibit and a fabulous show that is sure to be memorable.
For more information about this event, visit http://shnq.ca/.
The Sexual Health Network of Quebec (SHNQ) is a registered charity that is affiliated with the Canadian Federation for Sexual Health. The SHNQ strives to advance sexual health through public education and awareness campaigns, the development of programs and services in Quebec, and the promotion of sexual education, with liaisons to local, regional, national and international organizations.
CONTACT INFORMATION
Media RSVP contact
Lisa Segal
Media & Communications Director
The Sexual Health Network of Quebec
(514) 825-2554
info@shnq.ca