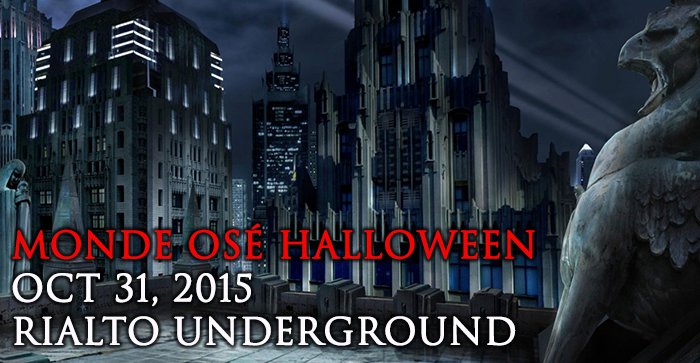 Monde Osé Halloween Ball : GOTHAM CITY
Monde Osé presents their Halloween Ball
GOTHAM CITY
This year Monde Osé goes deep into the underworld of one of the most notorious cities in Comic book history. Gotham City is a city overun by gangsters, corruption and a host of the most villainous characters.
On Saturday October 31st at the Rialto Underground, Monde Osé asks:
Are you a Hero? or Villain?
Dress as your favorite hero or villain, fictional, alive, or dead. You can also use your imagination and create your own character. Sexy, dark, or dangerous, all is welcome in Gotham City!
Get your tickets now:

Early bird: $45
Sept 3rd – Sept 30 (only 100 available)
Regular: $55
Oct. 1 – Oct. 30 (300 available)
At the door: $65
Oct. 31
Rialto Underground
5711 du Parc Ave.
Montreal, Quebec