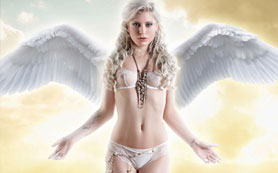 REINCARNATION: What to wear!
SEXY ELEGANT AND SENSUAL IS THE THEME FOR THIS YEAR`S MONDE OSÉ HALLOWEEN BALL ENTITLED: REINCARNATION.
In each of us lives an Angel, God and Goddess! At Reincarnation, come as your higher self. Come as that higher power inside of you, and express it through your attitude, dress, and energy.
As usual, the most frequently asked question about our party is: "What should I wear?"
So let me answer this by giving the classic Monde Osé answer:
Come dressed however you feel most comfortable. Remember that this is an upscale party, so always try to dress up, not be too casual, and compliment the theme.
A Monde Osé party is a place where you can be a bit more daring than what you usually wear out.
Now in regards to those who need inspiration with the theme, we suggest:
Sexy angels, Roman, Greek, Egyptian, Hindu Gods, togas etc. Use your imagination. And remember be inspired by ideas. You don't need to replicate characters. It's more interesting to create your OWN VERSION!
If you prefer to avoid costumes, you can always compliment the theme by clothing color.
White, silver, gold are the colors we suggest, but you are not limited to only those colors.
For ladies: You can also come dressed in sexy cocktail dresses, or in your most daring lingerie.
Think white sheer flowing material like in our second poster. Very sexy, somewhat revealing, and can be as daring as you want it to be!
For men: Same concept. Be any of the characters mentioned above, or come dressed in the thematic colors, anything from white boxer briefs, white cargo pants and no shirt, to a more stylish upscale look, including tailored shirt and pants.
THE SECRET IS: DRESS TO IMPRESS…
THE GOAL: look your best so that you can FEEL YOUR BEST!
See you on October 22nd at the KARMA Club.