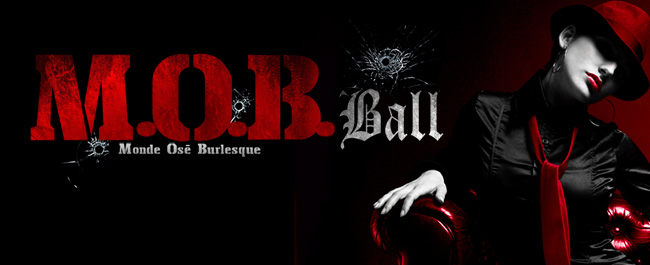 Saturday, February 20, 2010 – MOB Ball – Monde Osé Burlesque Ball – 5th Anniversary
THIS IS A MEMBERS ONLY EVENT
ONLY 250 TICKETS AVAILABLE
MEN MUST BE ACCOMPANIED BY A LADY
On Saturday February 20, you are invited to the 5th anniversary of Monde Osé`s Burlesque Ball, entitled the MOB BALL where we will exploring the secret underworld of the MAFIA.
Join us for the meeting of Monde Ose`s top gangsters, in a night where we bring burlesque glamour to the tables of the most notorious mobsters.
Soiree Strip Chic and Mafia Glam!!!
22:45
Betty Wilde in: Showgirl Gone Bad…
Join Betty Wilde in her descent into "corruption and naughtiness" as she sets the tone for the rest of the night.
23:45
MiMi Cherry in: In for the Kill
Enjoy MiMi Cherry as she sets her sights on being the Godfather's top attraction
23:50
Bon Bon Bombay in: Until "Death" Do We Part!
Bon Bon Bombay offers our guests a performance like nothing they have seen before. Inspired by a 1930 performance, Bon Bon revitalizes this act and adapts it to her own personal style, one which matches perfectly with the Monde Ose Burlesque Ball. Remember, once you are "married to the MOB, you take it to the grave!"
Bon Bon Bombay is an up and coming performer from Vancouver, and the winner of the 2009 Montreal Burlesque Festival.
00:45
Ms V and Madria in: A New Day, A New Don
Be part of the first moments of this new day, as MsV and Madria celebrate the "execution" of their perfectly planned scheme.
00:50
Eva Sins in: GREED – a LUST for Money.
Watch as Eva Sins "positions" herself to be the Don's newest showgirl.