The animation of the 10th edition of the Royal Burlesque Ball
Monde Osé is thrilled to bring our guests original and sensational new artists to provide animation at the 10th anniversary of the Royal Burlesque Ball. We are pleased to introduce our animators, Cirquantique and The Glitter Sisters; the splendor and excitement of these two troupes will entertain and tantalize you all evening long at this most anticipated event.
BUY NOW


Cirquantique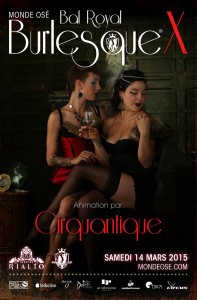 Since 2012, the production company known as Cirquantique has been dedicated to organizing multidisciplinary performance events which explore a variety of themes.
These events are comprised of two parts: first, a show which seduces the audience through circus, theatrical burlesque and dance which is accompanied by live music always with this little sensual touch, followed by an evening of dance and performances through the night.
The Glitter Sisters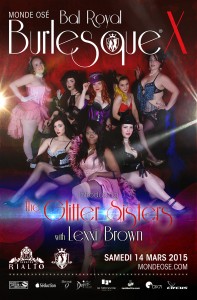 The Glitter Sisters are a group of passionate, and creative, women that banded together in 2013 to bring audiences a varied lineup of seductive, sexy and humoristic performances in the great tradition of cabaret burlesque.
The Sisters' biggest strength resides in their diversity and the many different styles, concepts, and body types that they represent. Glitter Sisters; one big family of energetic performers devoted to their art to communicating their passion to audiences everywhere.
Reminder to book your suite: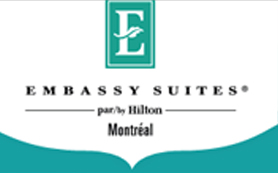 Monde Osé is pleased to partner with Embassy Suites in hosting your stay in Montreal. Rooms will be available for reservation by guests of the Royal Burlesque Bal for $149/night, enter promotional code: "Monde Ose" or "Burlesque Ball". Act fast as availability is limited.
http://embassysuites.hilton.com/en/es/groups/personalized/Y/YULDNES-BB5-20150314/index.jhtml?WT.mc_id=POG
Presenting the fourth video in our series celebrating the Royal Burlesque Ball 10th year anniversary:
Gifts to win:
Contest time! By going on the official Monde Osé Facebook page, you can enter to win one of many amazing prizes that we are offering to our members. Simply LIKE, COMMENT, and SHARE the picture announcing each weeks contest on our FANPAGE!
Few tickets remain so act fast!
BUY NOW


Tickets can also be obtained by going to Boutique Séduction or any Boutique Romance location. By doing so, you can save 15 % on your in-store purchases at regular price.