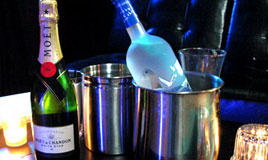 VIP Tables at Illuminati II
We are pleased to announce that we have created VIP sections, where those who prefer more exclusivity, can have a hostess provide them with bottle service.
In order to reserve a table you must pre-order at least 1 bottle for every 4 people in your group
Bottles cost 100$ per 26oz of premium vodka. (Tip Included)
To order a table please email info@mondeose.com with "Bottle Service" In the subject. We will need to know the number of people in your group  and how many bottles you would like to order (if more than 1 bottle per 4 people) Please also give us the name of the person responsible for your group in order for everyone to get properly escorted to the right table.
Tables are limited.
———–
Nous sommes heureux d'annoncer que nous avons crée des sections VIP, où ceux qui préfèrent plus d'exclusivité peuvent avoir une hôtesse pour le service de bouteille.
Afin de réserver une table, vous devez précommander un minimum d'une bouteille par 4 personnes au sein de votre groupe. Les bouteilles se vendent au coût de 100$ pour 26oz de vodka fine. (Pourboire inclus)
Pour les réservations, prière d'écrire à info@mondeose.com en inscrivant « Bottle Service » en objet. Nous aurons besoin de savoir le nombre de personnes constituant votre groupe ainsi que le nombre de bouteilles que vous aimeriez commander (si plus d'une bouteille pour chaque groupe de 4 personnes). Veuillez aussi nous indiquer le nom de la personne responsable de votre groupe afin que chacun puisse être correctement escorté à sa table respective.
Les tables sont limitées.