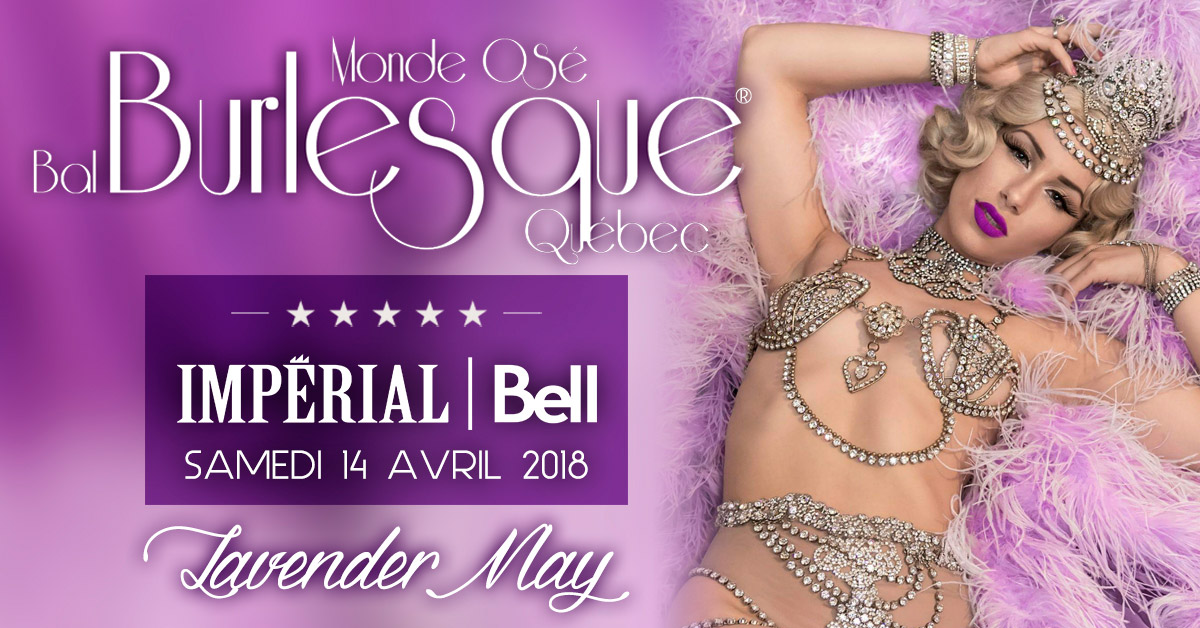 Burlesque Ball Québec 2018 – Dress Code & Style Inspiration – Code of Conduct
Two weeks shy from the most sophisticated and sexy (very sexy) 3rd edition of the Bal Burlesque Québec, we want to go over a few important details to inspire your mood and style, to answer questions that were asked about the dress code of our night.
And for those you are still hesitating, extremely curious and interested in living a total burlesque experience but still need that little push to make a decision?!? You have to read the 5 crucial reasons to come to the Bal Burlesque Québec.
THE Burlesque Ball is at the pinnacle of celebrating femininity, sexuality, and extravagance. We encourage all guests to join this celebration by dressing in a way that expresses their own sensuality to channel the spirit of Burlesque.
SATURDAY APRIL 14, 2018 – 10PM TO 3AM


252 rue Saint Joseph E., Quebec, Qc G1K 3A9
---
What is Burlesque? How do I dress Burlesque?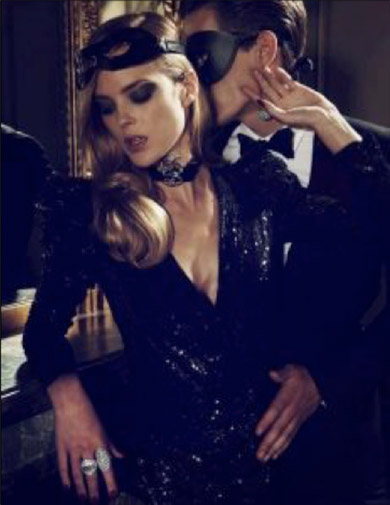 Burlesque is anything classy, sexy and extravagant!
Think of the 1920's when burlesque entertainment became popular, to now. Google it if you may… It can be interpreted as ridicule, theatrical and sensual.
Read more about burlesque and what it means to us HERE.
LADIES: DO your dresses, corsets, bustiers, garter belts, feathers, jewels, head pieces and satin.
From luxurious evening gowns to your sexiest lingerie items, be daring and revel in the beauty of the woman that you are!

GENTLEMEN: BE sharp in your best suit or tux, nice pants, shirts, and bow ties, suspenders, top hats, or surprise us with an original attire.

Costume play is an important factor in our royal affair. For this extraordinary night, we encourage everyone to participate, let loose, and come dressed to impress! Your inhibition is the limit, dear. What's important, is, you feel comfortable in whatever you choose to wear.
---
---
IMPORTANT NOTE: street clothes such as jeans will not be permitted. The minimum dress code requirement is semi-formal. P.s, there will be a coat check onsite.
FUN SUGGESTION: wear multiple layers so that when the drinks kick in, as you start to feel more adventurous; you can remove certain pieces to entice your own personal audience.
You always wanted to try burlesque? Now is your time to get into character! ; )
"DONT JUST WATCH BURLESQUE, BE BURLESQUE"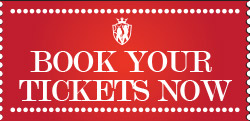 ---
Code of Conduct for the Bal Burlesque Quebec 2018
Monde Osé is all about love, acceptance, tolerance and respect; and the goal of our parties is to have fun and safely explore your sensuous side at your own pace.
We have created some guidelines that we ask every member to follow in order to encourage a fun and healthy environment. It is fundamental that all invited guests understand and adhere to the guidelines so that every person can enjoy their evening with the knowledge that the following common courtesies are to be expected.
Women are the essence of our parties. They are the central focus of the evening and most importantly, set the rules and the limits. Women should feel comfortable to play as they please without any advances or hassles from unsolicited people.
Women should never feel uncomfortable to reject any advance. However, please make an attempt to be courteous. If you feel you are being disrespected, please advise an organizer of the event or see a security agent so that they can be aware of unbecoming behaviours of the specific attendee.
Invited guests should understand and respect even the subtlest signs of a "no" (i.e. that someone is not interested).
Flirtation, kissing and touching is encouraged with permission from your playmates… building up sexual tension throughout the night.
Excessive drinking, to the point of disrupting other guests' fun, will lead to immediate expulsion.
Men should remember that it is a privilege to be at this party. With this in mind, male guests are expected to be charming, chivalrous, friendly, receptive to non-verbal signals and never dominating or aggressive.
However, even if a man embodies all of these traits, a lack of attraction and/or chemistry with a woman is possible. If rejected, men should be courteous and not offended. Every woman has different tastes. Remember, it is important for women to always lead the way. That is not to say that men cannot flirt with a woman, but that they should be aware of their reactions.
Using good judgment about your own behavior and being respectful of other guests at the party are the essential points to consider coming into The Burlesque Ball and any party hosted by Monde Osé.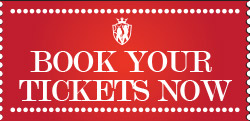 ---
Top 5 ways to enjoy your Burlesque Ball
Monde Osé is all about love, acceptance, tolerance and respect; and the goal of our parties is to have fun and safely explore your sensuous side at your own pace.
Do not accept drinks from strangers, and do not leave your drink unattended. If you do, leave it and get a new one.
Monde Osé does not condone drug use. In fact Monde Osé is developed to give you a natural high without any ill after effects.
Drink responsibly.
Be polite and respectful. We have zero tolerance for rudeness. Guests found being disrespectful to any one in the event will be asked to leave.
Know your healthy boundaries before the party, and respect them during it.
These guidelines are established to ensure that everyone has the best time possible at a Monde Osé event and applies to everyone in attendance, male and female.
What's wonderful about a Monde Osé party, is that it is a place that allows you to explore beyond your typical boundaries, that dares you to step out of your comfort zone in the company of beautiful, fun, like-minded individuals. Welcome to our world!
Still Not convinced that you want to joins us? Let me help you! I could give you hundreds of reasons why you shouldn't miss this crazy, sexy night…
Here are the 5 most important as to why you should spend your Saturday April 14, at the Quebec Burlesque Ball!
1 – It gets your heart racing
There's something so… audacious, provocative and a bit shocking about watching anybody in various stages of undress embracing their inner sensuality… Burlesque gets your heart racing by showing more skin than most people normally do. But, it's done in such a genuine and innovative way that you will get dragged into a heartbeat… it is the art of teasing without vulgarity…
2 – The themed shows are inventive, creative, extravagant sexy and liberating
Year after year, performers are overtaking one another and reinventing Burlesque. Offering exquisite performances by artists embracing freedom, self-abandon and self-acceptance. With a little bit of imagination and lots and lots of glitter and feathers the themed burlesque shows are endless!
3 – You'll be inspired to love the skin you're in
There's something about watching someone on stage who obviously loves their body that is just astonishing (in a good way!). Watching burlesque performers strip down to their skivvies is fascinating and empowering. They embrace their imperfections and somehow even manage to make taking a glove off look very sexy. After watching performances or even people around, there's a good chance that you'll be feeling a little more confident about loving the skin that you're in!
4 – It is the most extravagant event of the year
The Burlesque Ball is Monde Osé's annual celebration of beauty, diversity, and sensual femininity. It is the most extravagant evening of the year, featuring theatrical tease performances by local and international queens of Burlesques. Accompany by extraordinary DJ's who will sweep you off your feet and hosted by MC's who will distract and cheer the evenings of all at L'Imperial Bell, the breath taking historic theater located in Quebec City.
5 – You'll have a great night with some amazing memories
Some burlesque performers dance, others just tease you with their feather boas, and some will make your knees feel weak, your mouth dry and will certainly get your heart rate pretty high… No two burlesque shows are ever quite the same. Take an evening to discover the fascinating world of burlesque in Quebec and we guarantee that you will have some amazing memories that will last a lifetime. Whether you embrace your wild side and dress up from head to toes or simply showing your curves, you're going to have a hell of a night surrounded by beautiful and sensual human being.
WILL YOU DARE THE EXPERIENCE?
BUY YOUR TICKETS NOW!
Tickets
GENERAL ADMISSION (ticket only)
Regular: 45$
At the door: 50$
TABLE RESERVATION (table + 1 bottle)
*ticket NOT INCLUDED*
200$
VIP TABLE (table + 4 tickets + 1 bottle)
360$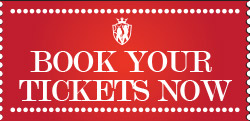 We have one hell of a lineup featuring performances by International Stars of Burlesque, you do not want to miss…
Read all about this year's featured artists HERE.
Visit our Facebook event page!
XO