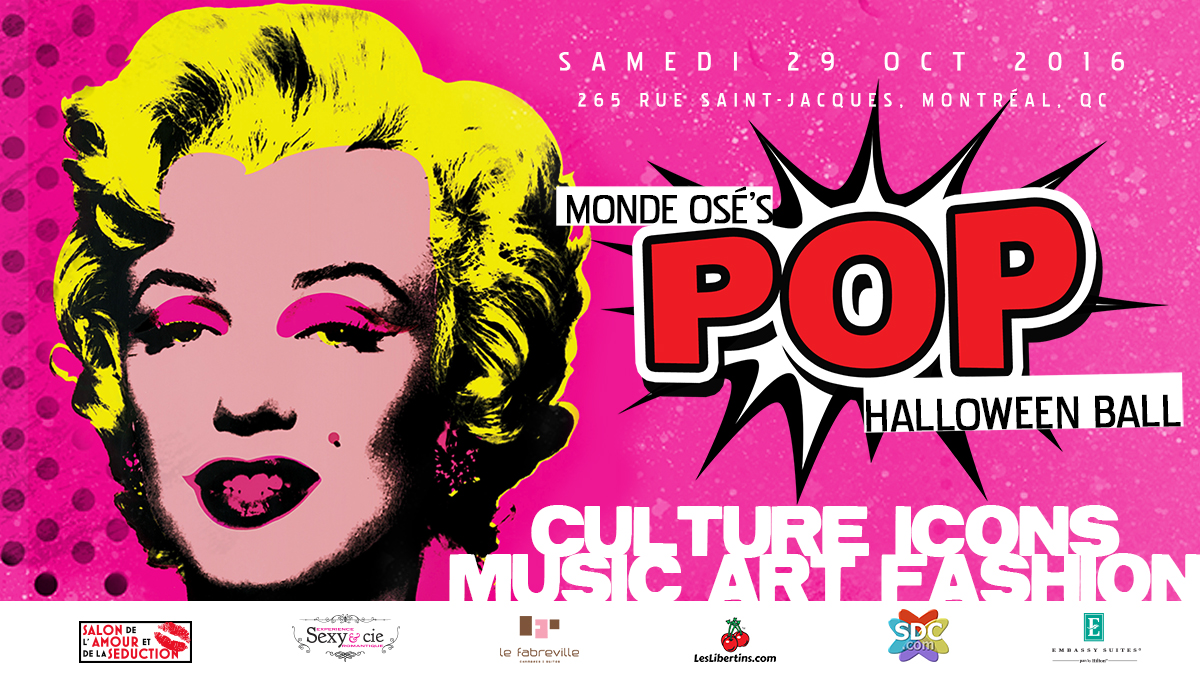 Monde Osé's Halloween Ball: POP
Ladies & Gentlemen, on Saturday, October 29th 2016, inside the lavishly appointed St-James Theatre in old Montreal, Monde Osé welcomes you to a very special edition of the annual Halloween Ball themed POP. 
<<< POP CULTURE ICONS, ART, MUSIC & FASHION >>>
Together, to reminisce on the past century as AN HOMAGE TO ALL THE SEXY POP CULTURE ICONS THAT HAVE SEDUCED US, completely popped our senses and made us grooove!
We're talking ''crème de la crème'' of pop culture, may the great Andy Warhol inspire us to go bold.
From local POP-ART INSTALLATIONS, VIDEO PROJECTIONS AND SEXY BURLESQUE PERFORMANCES by Montreal's best, await an exciting night in the spirits of Halloween. GRAB YOUR COCKTAILS, LET'S DANCE!
Full lineup of performing artists TBC.
Hugh Hefner and his bunnies, Frida Kahlo, Batman, Marilyn Monroe, Prince, Madonna, The Simpsons, Bowie, Michael Jackson and Lady Gaga might be there… will you?
Come with your muse, mistress, your friends and/or lover. Saturday, October 29th, LET'S MAKE IT POP!
xxx
Monde Osé's Halloween Ball
Saturday, October 29th 2016 | 10:00 PM – 3:00 AM