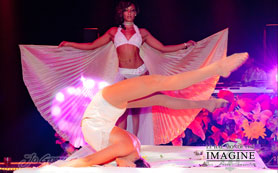 Bal Monde Osé 2011 – OSEZ L'AMOUR & VIVEZ AVEC SENSUALITÉ
Please note, English  BELOW
Bonjour amoureux de Monde Osé,
Cette année Monde Osé LIBÈRE L'AMOUR en tenant notre tout PREMIER MOUVEMENT D'AMOUR!
Inspirés par la révolution de Paix et Amour des années 60 et 70, nous ramenons l'ESPRIT de cet ère.
IMAGINEZ : PAIX, AMOUR ET SENSUALITÉ
Les hippies avaient raison!!! Ils vivaient avec amour, acceptation et styles de vie alternatifs.
Ils croyaient en la SEXUALITÉ OUVERTE, LA JOIE ET L'UNITÉ.
TOUT COMME NOUS DANS MONDE OSÉ.
Imaginez : danser, jouer, embrasser et séduire la plus belle clientèle que Montréal a à offrir.
Joignez-vous à nous dans cette NUIT UNIQUE où vous pouvez vous évader de la réalité mondaine du travail et du stress.
Délivrez votre "love child" intérieur dans un havre d'amour et de respect!
Faites parti de l'expérience d'AMOUR LIBRE de Monde Osé.
Votre participation est importante pour nous. Cet AMOUR est pour vous.
LIBÉREZ L'AMOUR.
Un voyage multisensoriel dans la sensualité
L`événement le plus sexy de Montréal depuis 2005
Billets aussi disponibles aux points de vente suivants :
Boutique Seduction: 5220, boul. Metropolitain E., Mtl
Boutique Romance: 723, Mont-Royal E., Mtl
Boutique Romance: 1821, rue Sainte-Catherine O., Mtl
Boutique Romance Laval: 14, Pont-Viau, Laval
Tattoo Bar: 391 Ste-Catherine E., Mtl
Imagine Le Fun: 34 Mont -Royal E., Mtl
——————————————————————————
Hello Monde Ose Lovers,
This year Monde Ose is LETTING LOVE FREE by hosting our FIRST ever LOVE MOVEMENT!
Inspired by the Peace and Love Revolution of the 60's and 70's, we are bringing back the SPIRIT of that era.
IMAGINE : PEACE, LOVE AND SENSUALITY
The hippies had it right!!! They lived with love, acceptance, and alternative lifestyles.
They believed in, OPEN SEXUALITY, JOY AND UNITY.
JUST LIKE WE DO AT MONDE OSÉ.
Imagine: Dance, Play, Kiss, and Seduce the sexiest clientele Montreal has to offer.
Join us on this ONE NIGHT where you can shed yourselves of the mundane realities of work and stress. Release your inner love child in a safe haven of LOVE and RESPECT.
Be part of the Monde Osé FREE LOVE Experience.
Your membership is valuable to us. This LOVE is for you…
LET LOVE FREE
A multisensorial journey into sensuality Montreal's sexiest event since 2005.
Tickets also available at the following points of sales :
Boutique Seduction: 5220, boul. Metropolitain E., Mtl
Boutique Romance: 723, Mont-Royal E., Mtl
Boutique Romance: 1821, rue Sainte-Catherine O., Mtl
Boutique Romance Laval: 14, Pont-Viau, Laval
Tattoo Bar: 391 Ste-Catherine E., Mtl
Imagine Le Fun: 34 Mont -Royal E., Mtl