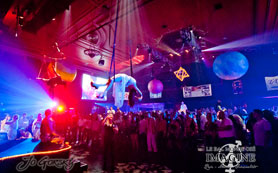 IMAGINE…100 BILLETS GRATUITS DISPONIBLES POUR LE BAL MONDE OSÉ
Please note…English information BELOW
100 BILLETS GRATUITS DISPONIBLES !!!
PREMIERS ARRIVÉS, PREMIER SERVIS
Cette année, Monde Osé offre 100 billets gratuits pour le Bal Monde Osé.
Ceci est un privilège offert SEULEMENT aux MEMBRES de Monde Osé !
Comment les obtenir? C'est simple :
Vendez 8 billets et obtenez-en un gratuitement !
Organisez votre groupe pour le bal et faites-vous récompenser par un billet gratuit.
Les billets sont 65$ chaque +taxes et services = $80
Pour collecter vos billets, vous devez prendre rendez-vous et apporter la totalité de l'argent des 8 billets à nos bureaux (situés au 955 Wellington suite 200 à Montréal) et nous vous donnerons automatiquement 9 billets.
Si vous demeurez en région éloignée de Montréal, les billets peuvent aussi être payés en ligne par Paypal et ils vous seront envoyés par la poste.
Pour prendre rendez-vous ou pour plus d'informations : IMAGINE@MONDEOSE.COM
——————————————————
100 FREE TICKETS AVAILABLE !!!
FIRST COME, FIRST SERVED
This year, Monde Osé is offering 100 free tickets to the Monde Osé Ball.
This is a privilege offered to Monde Osé MEMBERS ONLY!
The way to get them is simple :
Sell 8 tickets and get one for free!
Organize your group to the Ball and get rewarded with a free ticket!
Tickets are 65$ each +tax and service charges = $80
To collect your tickets, you must set up an appointment and bring the money for the 8 tickets to our offices (located at 955 Wellington suite 200 in Montreal) and we will automatically give you 9 tickets.
If you don`t live in the Montreal region, don't worrie,  you can also pay for the tickets online through Paypal, and they will be sent to you directly by mail.
To set up an appointment or for more info : IMAGINE@MONDEOSE.COM