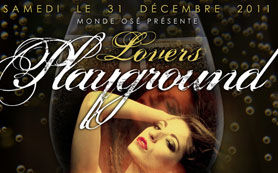 Bring in the New Year with Monde Ose
That's right friends, Monde Ose will be hosting a members only, exclusive NEW YEAR'S EVE party at our new home: CHERRY.
What better way to bring in the New Year than with the BEST CLIENTELE IN MONTREAL.
What makes Monde Ose special are the people:
We are sexy
We are open minded
We are very friendly
We like to have fun
That's how we want to spend our New Year's Eve – WITH YOU.
So reserve your place right now as there will only be 250 places available.
Halloween (Boudoir Masquerade) was a huge success, and was a VINTAGE MONDE OSE EVENT.
and so will New Year's Eve !
Get your tickets now, and spread the word to your friends.
Also reserve your private booth right now, by sending us an email at info@mondeose.com with your name and number of people at your booth.
Minimum 6 people needed in order to reserve a booth or minimum charges apply.
Thank you
Frank Mondeose
$55.00 – Includes Champagne at Midnight