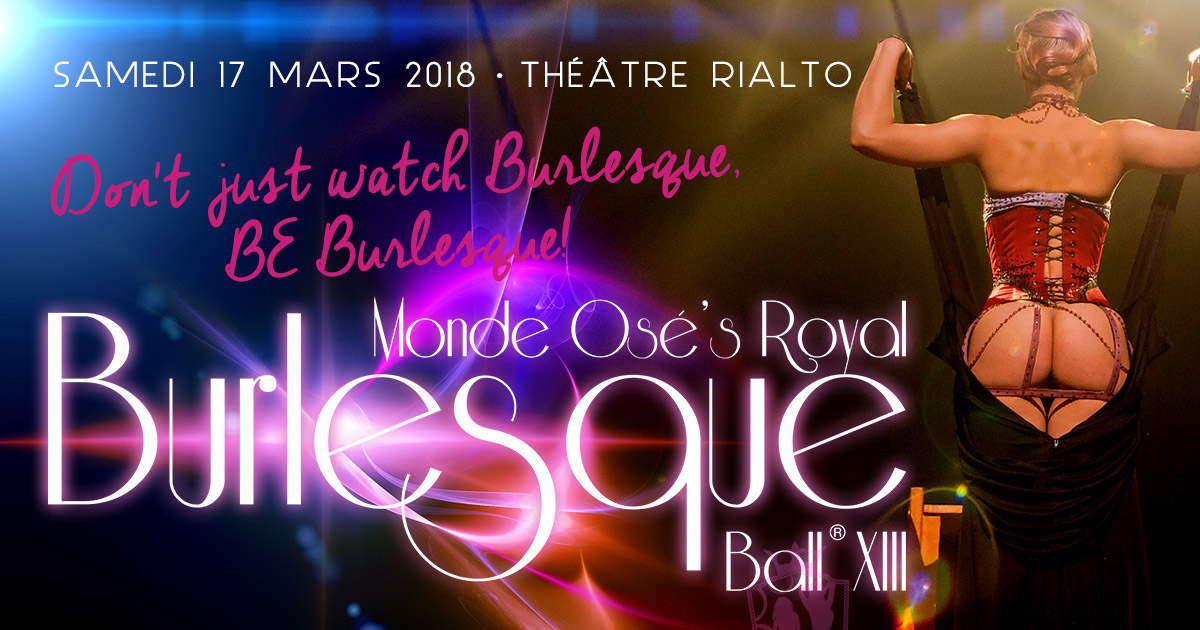 BURLESQUE 101 – Demystifying Burlesque – Then and now
Burlesque,
This millennium art, striptease ancestor, characterized by humour, mockery and enticing behaviours; this understated sometimes shocking or provocative art, teasing without vulgarity or total nakedness.
The burlesque title first came to life in Paris, at the end of the XIXth centuries, where cabarets, theaters and clubs were offering performances involving, stripteases, comedy and sensuality. The art of suggestion without showing it all.
Underground, non-conformist, overtaking, mainstream, audacious, shocking, erotic, feminism, defying stereotypes…? Burlesque has just as many faces as artists who practice it!! Withstanding the passing of time, this art, this celebration of femininity and sensuality, emancipate towards a seduction, self-abandon era as it is known today.
A blend of erotic dance combined with satirical theater, where women in full possession of their femininity, offers magnificent performances covered in glitters and feathers to entertain an audience.
Year after year, for the past 13 years, Monde Osé has reinvented itself to offer you a Burlesque experience worthy of that name! Orchestrating glamourous evening, creating intimate ambiance to let your inner sensuality come to life. Offering exquisite performances by artists embracing freedom, self-abandon and self-acceptance.
Will you be part of this audacious evening, will you dare sensuality, seduction, provocation! I'll wager that you won't be able to resist after watching what is next :
Royal Burlesque Ball XIII
Saturday March 17, 2018 – 9pm- 3am
Rialto Theatre – 5723 Park Avenue, Montreal, QC H2V 4G9
$55 EARLY-BIRD TICKETS
From December 22nd 2017 to February 15th 2018
Less than 40 tickets remaining!
$65 REGULAR TICKETS
From February 15th to March 16th 2018
$75 DAY OF EVENT
If availabilities
EARLY BIRD TICKETS AVAILABLE HERE: https://www.tix123.com/tix123/etic.cfm?code=MOBB2018