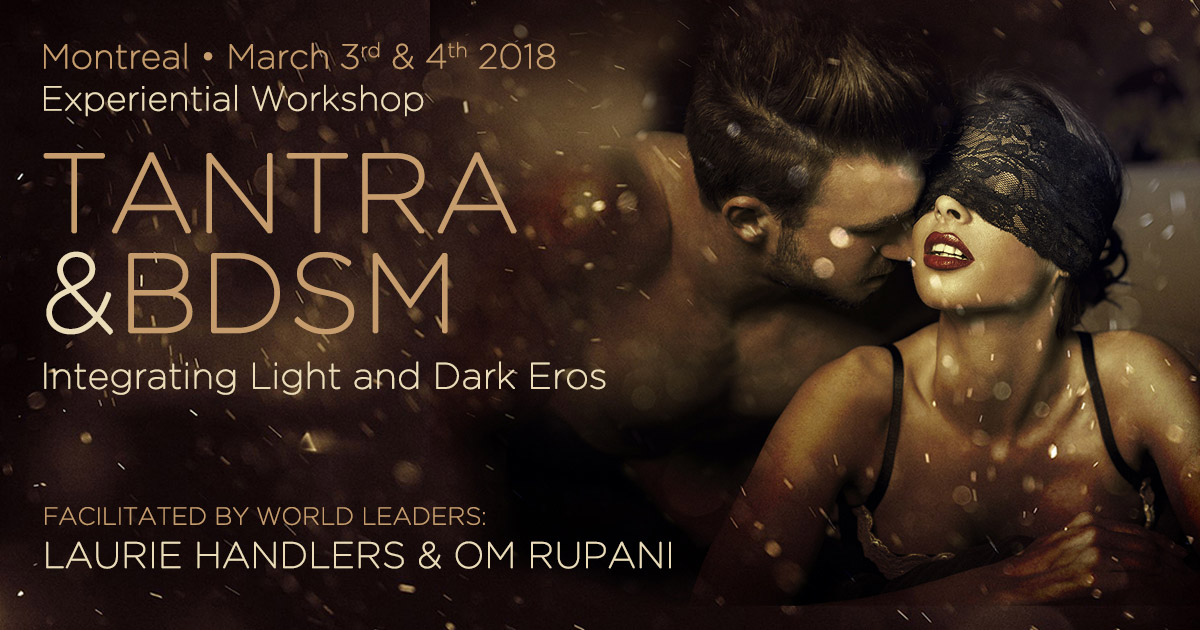 Tantra & BDSM – 2 Day Experiential Workshop – Montreal, March 3-4 2018
This workshop will be offered in English only.
COURSE DESCRIPTION
In this weekend journey, Laurie Handlers and Om Rupani will create a permission field in which the participants can discover a greater YES for their being, their desires, their Eros. No aspect of our being has been more shunned by society, more relegated to second class status than our Eros—especially the so called darker aspects of our Eros.
The art of Dominance & Submission / BDSM expertly plays with the darker side of our Eros. In this journey we will take the participants through solo practices of release and self-acceptance, as well as partnered exercise and SCENES in which they may give themselves permission for their desires around POWER, DOMINANCE & SUBMISSION, the giving and receiving of CONTROL and the deeper experience of SURRENDER.
We invite you to come explore and deepen your Spiritual and Erotic journey. Integrate the various aspects of your psyche, discover new levels of turn-on in your relating and sexing. Say YES to life, to your desires, and to your BEING.
TUITION ***
First 12 registrations: $205 US = $255 Canadian
Regular $237 US = $295 Canadian
RSVP HERE – SPACE IS LIMITED
WEEKEND OVERVIEW – Subject to possible changes.
DAY 1 — RELEASE & PERMISSION
Saying Yes to What Is.
Exploring Dom/Sub Archetypes
Emotional Release around Erotic Suppression
Spontaneous Movement
Being Led by Partner in Rope / Speaking Desires
Spanking Training & Practice
Strengthening Presence During Sex
Self-Pleasuring Ritual
Deepening Permission
Scene Negation & Design
Scene
DAY 2 — THE SACRED & THE PROFANE
Making Inner Space for Ecstasy
Additional Rope Skills
Surrendering Old Narrative
Women Claiming Their Erotic Voice
Deconstructing Defences
Trigger Play
The Wisdom in Pain
Combining Pain & Pleasure
Sharing Deep Desires
Scene Negotiation & Design
Final Scene
RSVP HERE – SPACE IS LIMITED
Special opportunity to be with 2 Leading International Facilitators in the realms of Tantra (Laurie) and BDSM (OM) right here in Montreal. This is a huge opportunity to get a reframe on these topics and up-level your skills.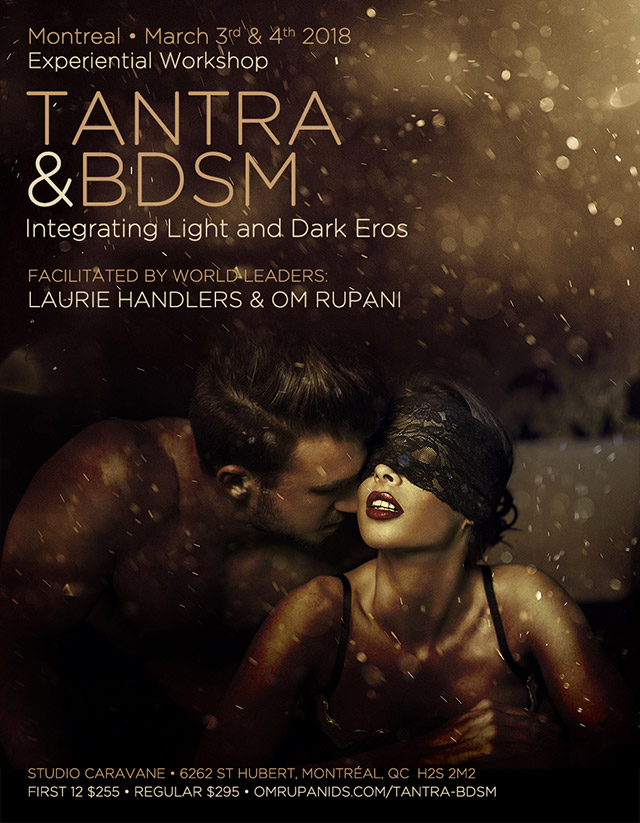 About the Facilitators
Laurie Handlers
Laurie Handlers is a Sex and Happiness Coach, author of Amazon #1 International Bestseller Sex & Happiness. She offers sexual health and awareness courses throughout the world and has hosted a weekly radio show where she discusses all topics about sex and happiness for over a decade. She is also a film producer and is currently a Lead Faculty Member of ISTA (International School for Temple Arts).
For more about Laurie: https://butterflyworkshops.com/
Om Rupani
Om has been practicing and teaching the D/S arts for over a decade. He has developed and facilitated curriculum in the arenas of D/S play, sexuality, and masculine/feminine complementarity for various organizations including OneTaste, Dark Odyssey, andMasculine Underground. He teaches his own workshops regularly in NYC, where he lives, as well as across the country.
Get his new book: Prerequisites to Ecstacy on Kindle or Paperback: http://amzn.to/2n5SKVB
For more about Om: http://omrupanids.com/menu
Frank Mondeose – ORGANIZER
A contemporary voice on Love, Eros & Relating, Frank Mondeose also known as the "Spiritual Playboy", splits his energy between the realms of Sacred Sex education and sensual entertainment.
Faculty with ISTA, The International Schools of Temple Arts, and creator of the lifestyle brand Monde Osé, Frank has touched the hearts and minds of many through tantalizing their imaginations at his multi-sensorial events, to inspirational interactions that navigate people to access their personal power.
For more about Frank: http://frankmondeose.com/
OSHO ON TANRA
Tantra looks at life with a total vision. It wants to look at life as it is. Tantra encounters life face to face. Neither thinking, 'This is good', nor thinking, 'This is bad'. Simply facing that which is.
Tantra does not split you. All the religions of the world except Tantra have created split personalities. They make something bad in you and something good. And they say the good has to be achieved and the bad denied. The devil has to be denied and God accepted. They create a fight within you. Then you are continuously feeling guilty. Because how can you destroy the part that is organically one with you? You may call it bad, you may call it names, but how can you destroy it? It is a part of you. You never created it. You have simply found it given to you. Anger is there. Sex is there. Greed is there. You have not created these. These are given facts of life like your eyes and your hands. You can call them names, you can call them ugly, but you cannot kill them. Nothing can be killed out of existence.
Nobody has reached to the divine by saying no to existence. This is the vision of Tantra.
Tantra accepts you in your totality. Unless Tantra becomes the foundation of human life, man will not be complete. Because no other vision accepts man in his totality.
Tantra says be yourself. That is the only true being you can ever achieve.