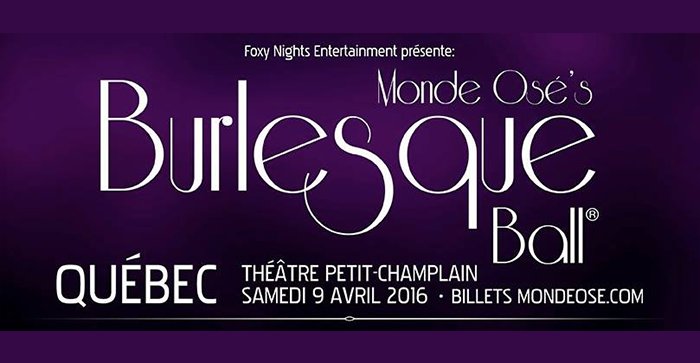 Burlesque Ball – Quebec City April 9, 2016
Monde Osé is proud to announce that we are taking our very own Burlesque Ball experience on tour, coming to a city near you in 2016. Now you have an opportunity to join our burlesque extravagant movement as it happens. Keep checking our website for event details in the near future, but for now, here is where we will be…
Burlesque Ball – Quebec City
April 9, 2016
The performers who are waiting to pique your interest and arouse your senses are…
The Foxy Lexxi Brown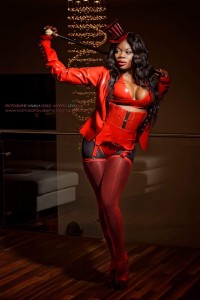 Prepare to fall in love with Foxy Lexxi, the headliner of the Quebec Burlesque Ball, the beautiful bombshell of Montreal who is the epitome of elegance and sensuality.  The Foxy Lexxi and her ebony charms have graced the stages of many North American theaters and cabarets, and performed with several burlesque icons such Roxi D' Lite and Dita Von Teese.
Published several times, her unique and versatile style goes from the classic pin-up burlesque, to the femme fatale and the dominatrix in latex dress.  Lush performances have inflamed rooms, and her cruel curves and mesmerizing looks will certainly get you hot under the collar.
Now based in Quebec City, Lexxi has introduced a high-level flamboyant Burlesque style and is established as the figurehead of Burlesque in the old capital, where she organizes parties and sexy events for all, offering an original and luxury entertainment that transports you into her colorful world… like at the upcoming Burlesque Ball in Quebec!
MiMi Cherry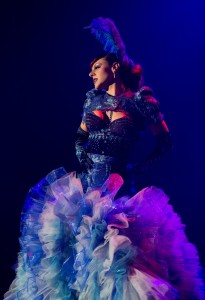 Coming hot off performing with Dita Von Teese in Montréal, and headlining the Toronto Burlesque Ball at the X Club, MiMi Cherry returns to Quebec to seduce you anew! 
MiMi`s powerful and charming attitude has led her to the top of performing in the field of burlesque and fetish entertainment for the last decade.  With a style ranging from pin-up burlesque and high fashion, to fetish and avant-garde, MiMi's versatility and style led her to be a cover girl and featured in many alternative magazines.
Known for her feminine allure and sensual curves, MiMi enchants men and women alike with her enticing performances, and she's ready to seduce YOU at her next show…
Photo: Benoît Vermette courtesy of Speakeasy
Lavender May
Born into lace and sequins, Lavender May is one of Montreal's stars of burlesque, known in the community for her dedication, original concepts and surprising costumes.
She has produced and performed in Speakeasy Burlesque since 2011. Her recent European tour included Paris, London, Munich and Berlin. Her acts always have a touch of darling innocence, cutesy sensuality, delicate femininity, humour and grace.
One would think she is right out of an old Hollywood classic, ready to dazzle you with her charms this April 9th!
Photo: Benoît Vermette courtesy of Speakeasy
Dory LaDrag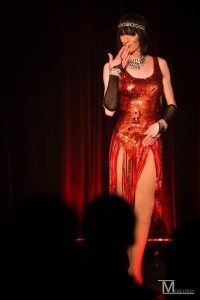 Dory debuted as drag queen at the cabaret Chez Mado 10 years ago by winning the Miss Mado 2006.
Since then, Dory has performed throughout Quebec, in bars, fairs like Bordeaux Wine Festival in Quebec and even the closing show of the Quebec Carnival.
He also performed in Toronto for the World Gay Pride and internationally as well as in Greece. Dory LaDrag is also a female impersonator, he produced and performed a full show of Celine Dion at the Imperial Bell in June 2015.
He joined the Burlesque community 3 years ago, animating and sometimes performing for Saturdays Burlesque at the Charlotte Ultra Lounge, but also the Folies Jartières at LeCercle… and will be our MC at the Quebec Burlesque Ball!
Looking forward to seeing you at the Burlesque Ball at the Théâtre Le Petit Champlain on April 9th!
Our DJ for the evening is…

STEVEN CAICEDO!
He's DJed various Monde Osé events over the years, including opening for DJ Papa Kola at the Royal Burlesque Ball XI on Saturday March 19.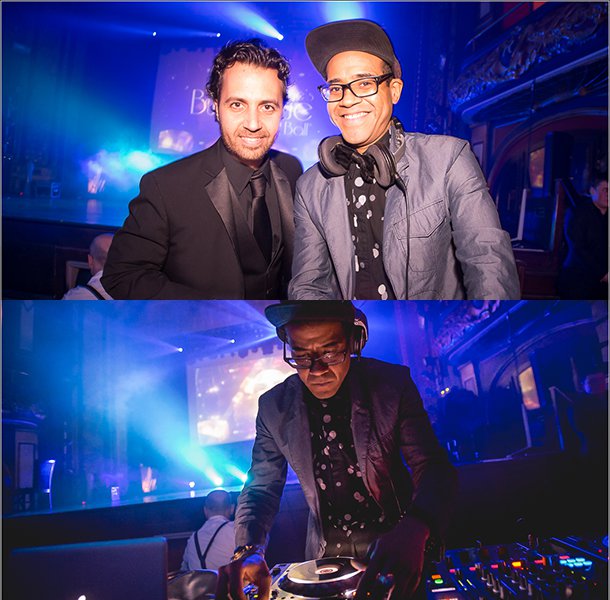 Photos: by Jo Gorsky – DJ Steven Caicedo and Frank Mondeose at the Royal Burlesque Ball XI
Steven Caicedo is a well-rounded maestro and musical connoisseur. From co-founding one of the first internet-based radio stations geared toward electronic music in 2001 (ProtonRadio.com), to landing a job within Fatboy Slim's inner circles, or pushing brilliant productions from Ready Mix Records, he's a nightlife mainstay for the last 17 years with new projects always in the pipeline.
From deep house to techno to progressive or to the classics we all love, Steven has no qualms switching genres as he blends them all effortlessly, engrossing the listener, elevating the dancer to new heights and aural bliss…
Click here to listen to Steven Caicedo.
Here is our schedule of performers:
10:00 The doors open!
10:30 Dory LaDrag

1:15
The Foxy Lexxi Brown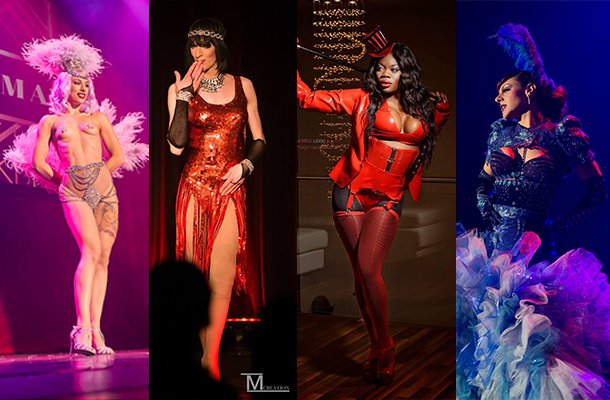 Photos: [from left to right: Lavender May by Benoît Vermette courtesy of Speakeasy; Dory LaDrag by M Creation; Lexxi Brown by Kamala Houle; MiMi Cherry by Benoît Vermette courtesy of Speakeasy]
Exclusive Prices on Québec Hotels
For those of you looking for accommodations near the Théâtre Petit-Champlain, our friends at Hôtel Hilton Québec are offering special rates for the Québec Burlesque Ball on April 9th!
– Downtown & Parliament Views:
159.00$ per night, CAD/ Single or double occupancy + taxes
– Old Québec et River Front Views:
179.00$ per night, CAD/ Single or double occupancy + taxes
Suites give you access to the executive lounge, breakfast, snacks, beverages and paid bar services: 209.00$ per night CAD / Single occupancy + taxes
229.00$ per night, CAD/ Double occupancy + taxes
Call 1-418-647-2411 to reserve your room.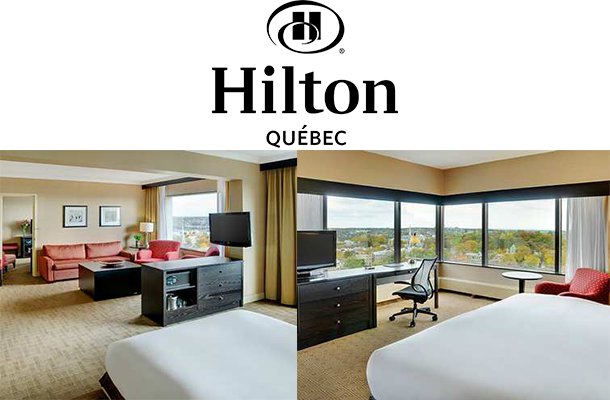 The Hilton Hotel Québec is located at 1100 René Levesque Est, Ville de Québec, Québec, G1R 4P3.
Looking forward to seeing you at the Burlesque Ball at the Théâtre Le Petit Champlain on April 9th!
Get your tickets here!
Regular: $35

**ALMOST SOLD OUT!**