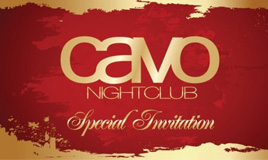 Cavo Nightclub – An intimate and fun spot
Last night, I went to the grand opening of the new club in Old Montreal called Cavo located at 160 Notre Dame East. Initially marketed as the "hottest addition to the Montreal Nightlife scene…" I started wondering if it would be another typical Montreal opening, where they promote much more than they deliver. I went in with an open mind (obviously), and found that there is a lot more than meets the eye with this quaint little hotspot in Old Montreal.
The first thing I really liked about Cavo is how the place is set up. For starters, in comparison to regular "clubs" in Montreal, it is pretty small…But you know what they say, good things come in small packages, and that is totally the case with Cavo.
Cavo sits as an independant vintage stone walled building in the heart of Old Montreal, probably inspiring the name: Cavo. The club/lounge is spread over 2 floors and also has a very nice terrasse attached to the second floor which will be winterized with heat lamps and sofas for all the smokers out there.
The first floor decor is also very consistent with the outside of the building and its name. It is reminiscent of a cozy little cavern, with stone walls and columns. When you walk into Cavo, you have a large bar, lounge area, staircase, bathrooms and coat room. Perfect place to sit and meet some friends over a martini or a quality scotch.
The staircase leads to the second floor, the true heart and soul of the club. The second floor feels a bit like a ski lodge, except with a cool and edgy flare, probably due to the interesting visuals on the walls and the badass leather and snake skin furniture. The second floor consists of a large bar on the back wall, DJ booth, booths for bottle service and a kick ass sound system, which Sandy Duperval took full advantage of last night, playing some house and old school tracks which she sang live to…AWESOME!
However, walls and furnishings are just that. You can have the hottest and most expensive club, but if the energy, people and music are not right, I wouldn't go back if you paid me! Thats where the magic of Cavo starts. Energy. Being a small club, you only need a few people to make a night memorable. If the clientele stays consistent with last night and if the owners, manager and promoters have a consistent vision, its only a matter of time before people are lining up outside and begging to get in, as it will fill up that quickly!
I mentionned the owners, manager and promoters and this is something I would like to expand on. The owners, Marilene Tentomas and  her husband Jeff, are a dynamic duo. For the brief time I know them, I have to say that they are beautiful people inside and out, and it is very obvious that success for them goes beyond the cash register. They want their club to have a family and house party vibe, and they are doing all the right things to make that happen, including firing up the barbque on the outdoor terrasse at 1:30am to grill some Italian sausages for their patrons. Not to be forgotten is their manager Ali, a breath of fresh air when it comes to people in the nightlife industry and a man at the service of his guests.
The promoters are also stand up characters, starting with Jack Massacre, the man behind the most succesful Monday night party in the city called Manic Mondays at Cafeteria, and Jessie D'Aigle, the manager of the beautiful Old Port venue called Scena, in which he implemented some very innovative shows in collaboration with les Sept Doigts de la Main this summer (if you recall, les Septs Doigts de la Main were also the stars of Bal Erotique 2008).
All in all, in my opinion, Cavo will definately live up to its "sales pitch" and probably be the hottest new club/lounge in Montreal, and could not have come at a better moment, as fall has arrived in Montreal and it's nice to know we have a cozy new place we can go to get warmed up during these chilly months ahead of us.
So much so, that I am thinking of taking over the Friday nights at Cavo as of  the beginning of November to create a weekly Monde Osé event on the second floor for members only. I think the temperature just started to rise!
I will give you more information about the weekly schedule of Cavo and Monde Osé`s association with Cavo as it develops!
Until then stay tuned for more details!