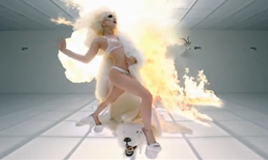 New Lady Gaga Video – Bad Romance
Lady Gaga is coming to town on Friday November 27, and if her concert is anything like her brand new video Bad Romance, I think its going to be one KINKY joy ride!
Check out Lady Gaga's new video for Bad Romance:
[responsive_vid]
We here at Monde Osé think this is the hottest video to come out in a LONG TIME. Everything from the costumes, sets, make up, cinematography, and story line are EXCELLENT.
I can`t say enough about this video!!! It`s soooooo HOT it actually catches on fire…
Although some people think Lady Gaga is too commercial, I think she rocks. She`s got the guts to do what makes her happy, she`s got a sexy vision, and DARES to be different. EXACTLY WHAT MONDE OSÉ is about.
Oh, and as for the song, I think it`s friggin catchy and FOR SURE will be a dance floor hit. Its probably going to start being overplayed on every radio station any second now, so enjoy it while you can!!! 🙂
Feel free to comment on the video. It can make for an interesting conversation!
For more info on Lady Gaga, go to LadyGaGa.com