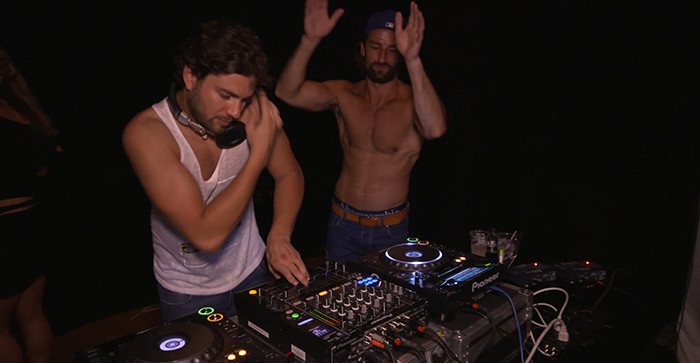 DJ Announcement for The Halloween Ball
It is with pleasure that we announce the return of Rich & Kiss who will arouse your senses with their musical stylings at our Halloween Ball at the Rialto Underground on October 31st.
This hot DJ duo made their first Monde Osé appearance last Halloween, with an unforgettable night of deep and sexy tunes, where they fell in love with the Monde Osé crowd and the sensual energy of our events.
According to Rich & Kiss, Music has the power to connect you with you, and they believe that DJs have the sacred responsibility to turn that phenomenon into an experience that connects everyone with everyone. They crave the shared provocation of the crowd's passion and stimulate with some soul sifting beats. The entire set should massage the audience's psyche and convince them deeply to just fucking love. Themselves. Everyone. Now. Always.

Rich & Kiss' weapon of mass seduction? A tasteful mélange of deep house with thick, minimal tech loops. Sprinkle some soulful lyrics. Keep it seductive. Climax.

We will have some other sexy surprises awaiting you, lurking in the shadows of Gotham City, among the other costumed heroes and villains.
Watch yourself: In Gotham City, devious tricksters will be all around you, hunting for trouble… will you be ready for them?

ALSO IN STORES NOW, and don't forget, anyone with a Monde Osé ticket purchased online or in store, will receive a 15% discount on all regular priced purchases at any Boutique Séduction or Boutique Romance. You must show your ticket in order to take advantage of this special.
BOUTIQUE ROMANCE MONTREAL W.
1821 Ste-Catherine W.
Montreal, QC H3H 1M2
514-876-3656
BOUTIQUE ROMANCE PONT-VIAU
14 Pont-Viau St.
Laval, QC H7N 2X9
450.669.6169
BOUTIQUE ROMANCE MONT-ROYAL
723 Ave Mont-Royal
Montreal, QC H2J 1W7
514-522-6969
BOUTIQUE ROMANCE CURÉ-LABELLE
145 Curé-Labelle
Laval, QC H7V 2R7
450-681-7049
BOUTIQUE SÉDUCTION
5220 Metropolitain E
Saint-Léonard, QC
514-593-1169