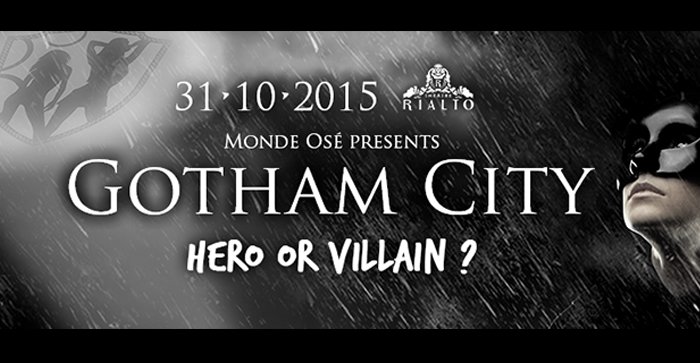 Monde Osé Halloween Ball Costume Inspiration : GOTHAM CITY
Enter Gotham City: a sexy and dark underworld filled with some of the most notorious villains and illustrious heroes, intertwined in a dangerous web of crime, greed, and vigilante justice. No one is safe from the tricksters, thieves, freaks, and weirdos that live in the seedy underbelly of Gotham City!
Amaze us with your costume at our Halloween Ball this October 31st.  Your costume may be from the pages of a classic comic book, movie or real-life inspiration. Better yet, create your own unique character.
View the videos for inspiration from our favorite characters from the DC and Marvel universes, and famous femme fatales.
Join Monde Osé's heroes and villains at the secret subterranean lair: the Rialto Underground (5711 du Parc Ave., Montreal) on Saturday October 31st, for a night of flirting with danger and indulging in provocative performances.
NB:
– In order to ensure the quality of the event and guest experience, Monde Ose's Bal de l'Halloween is a costume-mandatory event. Minimum costume required for entry is dressy-casual attire and a mask.
– No real weapons will be allowed on site; any weapons as part of a costume must be verified to be fake upon entry.
Get your tickets here

For VIP table reservations, email info@mondeose.com (subject: VIP table reservation). Don't forget to leave your name and the number of people in your group.