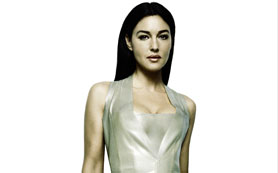 LATEX – Love it or leave it!
A lot of people have been wondering about this shiny skin-tight material that has been popping up in the last couple of Monde Osé parties.  Well, it`s called Latex. Commonly worn in the Fetish scene, it has become the clothing of the rich and adventurous. Latex can be seen in the movies worn by mainstream stars, such as Monica Bellucci in the Matrix… (ummmm …yummy :-D) and any other superhero movie such as X-men.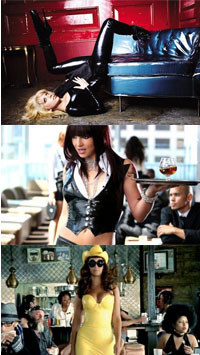 Latex can also be seen on the most popular pop stars and in their music videos.Lady Gaga, Rihanna, Beyonce, and even Britney Spears have been making latex the new fashion trend!
This shiny misunderstood material has even made its way on runways and in high fashion magazine such as GQ and Vogue.
The difference between latex, leather and pvc
There's been a lot of confusion between Latex, Leather and PVC, so let's start by clearing that up.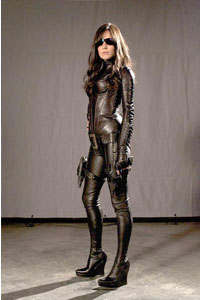 We all know what leather looks and feels like. It's soft to the touch but sometimes a bit rigid, it breathes, but still warm to wear, and it smells like your lawyer's new couch….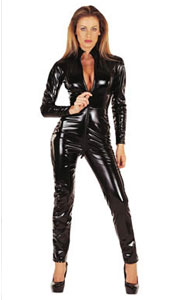 PVC, which stands for Polyvinyl chloride is also known as Vinyl. It has a similar shiny look like latex and… well, that's about the only thing it has in common with latex! PVC kind of looks like patent leather. It's much less expensive than latex, pretty durable, and easy to clean and store.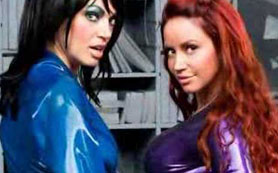 Latex is the opposite of all this. Good quality latex can be quite expensive, I can't call it durable, because it is fragile and if you're careless with it it will rip, but if you take proper care of it and store it in the right way, then it can last you a long time.  It's not easy to put on and has very specific ways of cleaning and storing it. But the look and feel is uncomparable to anything else you'll ever wear in your life.
Get me into some latex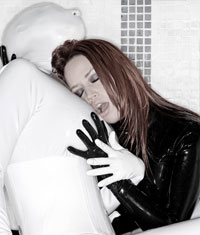 "So what's the attraction" you ask? THE LOOK AND FEEL OF IT!!! Latex is not comparable to any other clothing material on the market.  Latex hugs and flatters your every curve no matter your body type.
It makes you feel like the sexiest most desired woman on earth.
The sense of touch is heightened when people caress you, especially when you apply silicone based lube. There is almost nothing more titillating than getting your butt or breasts lubed up while wearing some skin tight latex. You can feel every draft of cool air that passes you by and the lightest touch of a feather can feel intensely ticklish.
Regardless of all the stimulating side effects, latex isn't for everyone. Some people are allergic to it and others just don't have the patience for it.
Latex can become a passion. You either love it or don't care for it. It's not just a piece of clothing; it's a second skin, a costume, a sexual air, and most of all, part of a whole new lifestyle.
Where to start?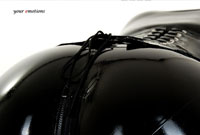 If you've never tried it, I highly suggest you do. Start with something small, like a pair of gloves, or a latex skirt. Make sure you get the proper size and tell the sales person it's your first piece so they can tell you how to take care of it and store it. These are the two most important parts of making your latex last.
If you want something that you will keep beyond one night, don't buy latex from a box in a sex shop! You'll be lucky if you get to put it on before it breaks.
One of the top latex manufacturers in the world is called Polymorphe and they're from right here in Montreal! They are known worldwide so you don't have to go too far to purchase some good latex. Polymorphe can be found at Sexe Cité located at 6325 Plaza St-Hubert.
If you have any questions or would like some help shopping for your first piece of latex, don't hesitate to contact me. It'll be my pleasure to help you slip in to your new found second skin.
[youtube id="niqrrmev4mA" mode="normal" align="center"]
[youtube id="CvBfHwUxHIk" mode="normal" align="center"]
[youtube id="bOXvqkC3W4M" mode="normal" align="center"]